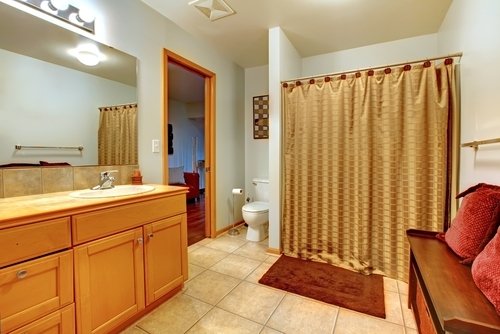 You might make the decision to remodel your bathroom for any number of reasons. Perhaps you've become sick and tired of the inelegant fixtures your sink and tub came with when you bought the house. Maybe you want to upgrade your tile flooring to a layout with a more elegant design. Alternatively, you might be looking to make improvements to the appliances for reasons that are considerably more practical - such as those that will allow you to save money through increased energy efficiency.
There are more than a few ways to successfully accomplish this goal while renovating your bathroom. These range from swapping out the bulbs in your lighting fixtures or installing radiant floor heating to using appliances known for diminished water usage.
Energy efficient bathroom lighting
Lighting is a key element of both the functional and aesthetic aspects of a bathroom. Beyond the obvious fact of needing to see what you're doing, it can be immensely unflattering to have poor lighting - and while that might be a small consideration at first, it can take a certain toll as it's a room you use every day.
Despite such concerns, upgrades that save money will be more advantageous in the long run. LED lighting is among the best ways to go about this. These bulbs, which use light emitting diodes instead of traditional incandescent filaments, offer a bright, flattering light without an excess of heat. When used in a recessed downlighting design, they can be ideal for the bathroom. The U.S. Department of Energy states that LED bulbs last 25 times longer than incandescents and use 75 percent less energy.
Efficiently warm a bathroom with radiant floors
As anyone who's stepped into the bathroom on a morning when you are less than completely awake knows, few things are more jarring than a cold floor. Radiant heating can eliminate this issue entirely, ensuring that you always have comfort under foot while getting ready in the morning. According to WarmlyYours, 70 percent of those who purchase radiant floors acquire them for use in the bathroom. The Department of Energy has also identified this heating method as being more effective and efficient than baseboard heating.
Additionally, you can extend this readily available warmth to other aspects of your bathroom. Heated towel racks, for example, can be timed so that they warm up your linens while you're in the shower, so they are ready when you get out and dry off.
---
Tell us About your Project
Our team of Radiant Experts is ready to help! Just tell us a little about yourself and your project to get started.
---
Did you find this post helpful?
Let us know by giving it some applause.
---
---