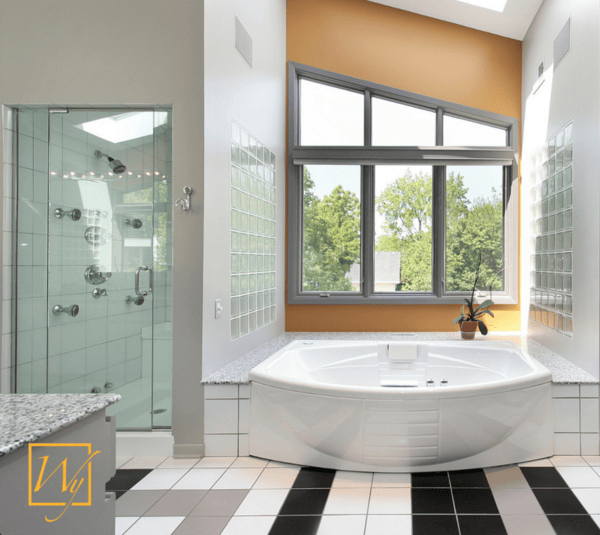 From the first Spanish explorers arriving in the 18th century to the gold rush in the 19th century to the infamous earthquake early in the 20th century, San Francisco has undergone many transformations. It's a city that's been destined to embrace change.
Likewise, many San Francisco homeowners today are embracing change by remodeling their bathrooms. The average bathroom remodel cost in San Francisco is $21,590, but it can add up to $29,469 in value to the home, according to a porch.com article. That's a 136.5 percent positive return on investment!
In a market where many homeowners are still rebounding from the housing market crash, remodeling projects are becoming more prominent in an effort to increase a home's resale value, the porch.com article adds. With a median home value index of just over $1 million in the San Francisco area, according to Zillow, many homeowners are protecting their investments with the addition of radiant heating to enhance their lifestyles and further increase their home value.
Plus, in-floor heating helps to appease those damp, cold California evenings and early mornings before the heat of the day arrives to naturally warm cold floors.
This homeowner (see floor plan) installed a TempZone™ Flex Roll in an 84-square-foot bathroom. The bathroom features a double vanity, tub and shower in an L-shaped space, leaving 36 square feet of prime floor space for underfloor heating.
The cost of electric floor heating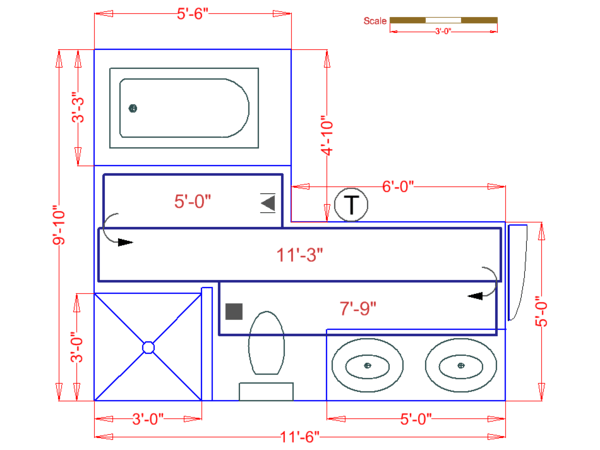 California is well-known for being energy conscious, so when it comes to heating a home, residents want the most energy efficient choice possible. With radiant heating, homeowners can program their thermostats to heat only the rooms they choose when they need it — such as evenings and early mornings. This saves energy while keeping operating costs low.
In fact, it only costs 13 cents a day to heat this San Francisco bathroom for four hours a day, according to WarmlyYours' Energy Use Calculator, which factors in the size of the space and the average kWh cost. During the coldest month of the year, the operating costs are about $36, and for the full year, the operating costs are about $396, according to WarmlyYours' Heat Loss Calculator, which takes a detailed look at conditions surrounding the room as well as the homeowner's specific zip code.
This bathroom uses one 120-volt, 1.5- by 24-foot TempZone™ Flex Roll, which is cut and turned to fill the 36 square feet of floor space in the room. The roll itself costs $432, which equates to only $12 per square foot. Once the SmartStat™ thermostat is added to the purchase, the total comes to $601.
Although this floor-heating system offers an affordable price, experienced DIYers can lower the price even further by purchasing TempZone™ Cable. This option is more labor intensive, but it is also more affordable than Flex Rolls. However, it should be noted that TempZone™ Cables are different from TempZone™ Flex Rolls because they have a lower wattage: 12 watts per square foot when spaced 3 inches apart. By comparison, TempZone™ Flex Rolls offer 15 watts per square foot with cable spaced 3 inches apart within a mesh mat. To determine if TempZone™ Cables can act as a primary heat source for a room, homeowners should use the WarmlyYours Heat Loss Calculator.
Get a quote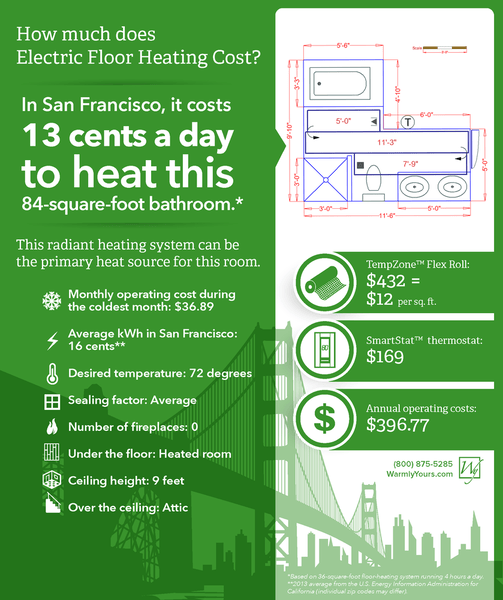 To get a quote for your own room, check out WarmlyYours' Instant Quote tool. Take a few seconds to submit some information about your project, and you'll instantly get a quote, detailing which products you need and how much it will cost.

To receive a detailed installation plan, send us a floor plan. The WarmlyYours team will get back to you the next business day with a free quote and custom installation plan so that you can see exactly how your in-floor heating system should be installed.
Plus, if you're installing the system yourself, we have technical support experts available to you 24/7 to answer any questions. Just give them a call at 800-875-5285.
For more information, visit www.warmlyyours.com.
Sources:
www.zillow.com/san-francisco-ca/home-values/
http://porch.com/advice/remodel-san-francisco-bathroom/
Links:
Instant Quote: www.warmlyyours.com/my_projects/new
Energy Use Calculator: www.warmlyyours.com/tools/cost-calculators
Heat Loss Calculator: www.warmlyyours.com/tools/heatloss-calculator

Related Articles:
Radiant heat's big impact in a small kitchen
www.warmlyyours.com/posts/countertop-heating--Radiant-heat-s-big-impact-in-a-small-kitchen-1131

Budget-friendly radiant heating in our nation's capital
www.warmlyyours.com/posts/bathroom-remodeling--Budget-friendly-radiant-heating-in-our-nation-s-capital-1127

How In-Floor Heating Can Revolutionize Your Morning Routine
www.warmlyyours.com/posts/bedroom-re...
Radiant Floor Heating in the City of Angels
www.warmlyyours.com/posts/bathroom-remodelin...
How to Reach Your Bathroom's Maximum Potential on a Budget
www.warmlyyours.com/posts/bathroom-remodeling--How-to-Reach-Your-Bathroom-s-Maximum-Potential-on-a-Budget-1120
---