How do you like our new look? Our new mobile-friendly version of WarmlyYours.com went live at the end of November. We've changed how the site looks and functions, as well as adding some new features, to improve your online experience.
Going Mobile
This updated format is fully scalable and designed to optimize the user experience on multiple platforms.
"With the drastic increase in our user base adopting mobile as their primary
 Internet browser, we felt it was necessary to update the site using a 
technology platform capable of supporting those users," said Christian Billen, Director of IT at WarmlyYours.
Faster and more responsive, the new site automatically adapts to different screen sizes from mobile phones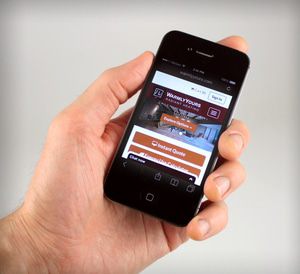 and tablets to desktops. "Giving our consumers easier access to all of our products no matter what platform they're on is important, and that's been achieved with the new site," said Lauri Galdine, Web Designer, one of the project team leaders, along with David Whitby, Senior Software Developer, for the site redesign.
A Better Look
With modern, sans-serif fonts and bigger graphics, the new WarmlyYours.com site has a fresher, brighter look, as well as improved functionality. The navigation has been redesigned, making it easier for users to quickly access the products they need, particularly on a mobile platform.
"Overall, the images are much larger and clearer when viewed on a large screen/desktop format. The redesign of the homepage is a big improvement over the previous version. Information is more structured, clear and concise, and the new homepage slider functions very well on both large and small scale formats due to the responsive layout," said Galdine.
New Features
As part of the redesign process, which took just over three months to complete, we evaluated the old site page by page, looking for ways to enhance your experience on WarmlyYours.com. In addition to improving the performance and appearance of the site, we have added new features to better meet your needs. Trade professionals will appreciate new features specifically designed to optimize their experience, including support for multiple logins on the same account.
Starting in mid-December, customers will have more payment options with the addition of PayPal and Bill Me Later. Adding PayPal gives our customers increased freedom to choose the payment option that works best for them. Bill Me Later enables customers to spread out their payments over time. Plus, Bill Me Later customers can take advantage of additional financing programs, such as six-month special financing for purchases over $99.
Christian Billen is excited to bring these new options to WarmlyYours customers: "For us, the benefits are adding a known, trusted method of payment for customers who are already using PayPal and offering the Bill Me Later financing to ease the cost of some projects."
But Wait, There's More…
Visitors to WarmlyYours.com can expect more improvements to the site in the near future, including the addition of new products and enhanced features designed to support dealers and contractors. Billen said that a fully revamped and integrated forum for trade pros and improved online tools, such as the heat-loss calculator, can be expected by the end of the first quarter 2014, and enhancements to the WarmlyYours University online training module will follow soon after.
Like this post? Subscribe for regular updates
Make sure you don't miss out on the latest news in radiant heating by subscribing to our blog. We'll send you an email with links to the newest posts from WarmlyYours.
We won't share your information and you can unsubscribe at any time with a single click.
---
Did you find this post helpful?
Let us know by giving it some applause.
---
---