Here at WarmlyYours, we RADIATE passion, which is all about exuding passion for your job, the products you sell, and the people you are "doing life" with. Because we believe it's important to recognize and show appreciation for each other, we've created the "Share Your Story" program to show our customers how much we appreciate them and to give them an opportunity to let us know how our products are making a difference in their lives.
Our most recent "Share Your Story" winner is Bert Tomon, from Parma Heights, Ohio, who shared his success story with us. Wintry Ohio weather would often cause snow and ice to accumulate on Tomon's front porch. In addition to snow and ice buildup from winter storms, water from his gutters would trickle down to the surface below, freezing and creating a hazardous patch of ice on the porch. Tomon had been using ample amounts of salt to eliminate the problem--a costly and labor-intensive solution.
When the time came to renovate, Tomon decided to invest in a snow melting system that would keep the porch free of snow and ice, so he could safely enter and exit his home during the chilly Midwestern winters.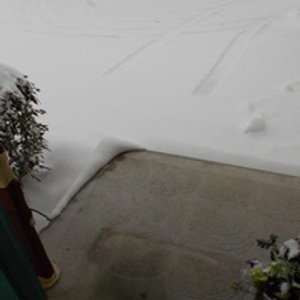 He purchased a 2' x 10' 120V snow melting mat, an easy-to-install, economical solution that would meet his needs. Tomon opted to install the snow melting system without temperature sensor controls, instead choosing to operate the system manually.
"I use a timer," he said. "I turn it on when there's a snowstorm coming."
Tomon operates the system as the winter weather dictates, turning it on for a few hours as needed when snow and ice accumulate. During the frigid months of January and February, he'll also run the snow melting system around the clock to prevent ice from forming.
Tomon said that the installation went smoothly, and he was able to fit the WarmlyYours snow melting mat to his porch with ease. With the project complete, he has been enjoying the benefits of a warm, snow and ice-free porch.
"It's wonderful," Tomon said. "I can pick up the morning newspaper in my bare feet!"
Keeping the path to his front door clear has added a new level of safety for others as well. "I'm sure the mailman appreciates it," he joked.
Tomon is just one of the many homeowners who has improved his home and daily life with WarmlyYours Radiant outdoor solutions. In addition to the snow melting mats, WarmlyYours offers a complete line of outdoor snow melting systems for installation on porches, stairs, walkways and driveways. Adding custom controls with temperature sensors allows for hands-off operation, keeping outdoor surfaces clear and dry without the cost, effort, and inconvenience of shoveling, plowing or applying snow melting chemicals. Roof and gutter deicing systems are also available to prevent ice dams, protect property from water damage, and keep homeowners safe from dangerous icing conditions. Visit WarmlyYours.com or call 800-875-5285 to learn more about the snow and ice melting system that is right for you.
---
Tell us About your Project
Our team of Radiant Experts is ready to help! Just tell us a little about yourself and your project to get started.
---
Did you find this post helpful?
Let us know by giving it some applause.
---
---