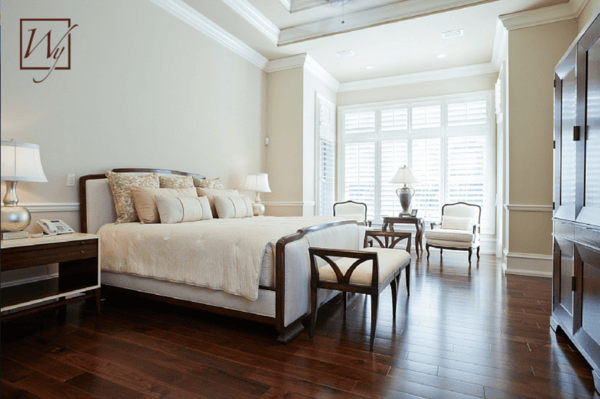 With an average high of -1 degrees Celsius (30 degrees Fahrenheit) for the month of January and a record low of -32 degrees Celsius (-25 degrees Fahrenheit), you might picture many Toronto residents huddled under fluffy blankets to stay warm at night.
This time of year, the average low is about 8 degrees Celsius (46 degrees Fahrenheit) with an average high of 17 degrees Celsius (63 degrees Fahrenheit), which puts homeowners in that awkward temperature zone of leaving their heat and AC off during the day but needing to turn on the heat at night.
To get comfortably through the spring and fall months without heating the entire house, installing a radiant floor heating system in the bedroom is a great solution.
Heating with cable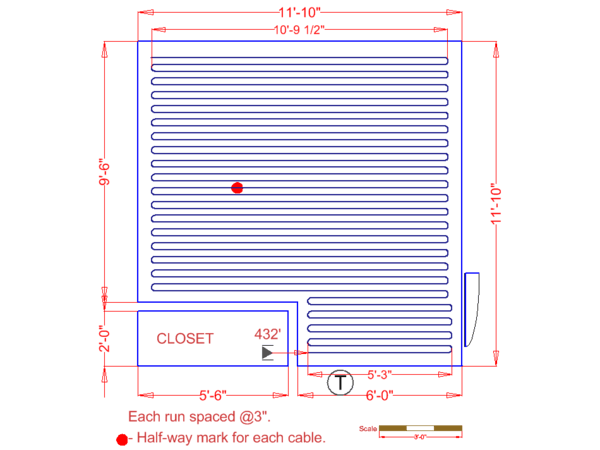 In this instance, a Toronto resident was able to use electric heated floors as the primary heat source for their 124-square-foot bedroom. Using 432 feet of 120-volt TempZone™ Cable spaced at 3-inch intervals, the system emits 12 watts per square foot. That means the residents can stay comfortable while they sleep, without having to pile on thick blankets.
Although Toronto is the largest city in Canada, the cost of installing heated cable under flooring is small.
The heating cable itself costs $645, with a SmartStat™ programmable thermostat bringing the price up to $814. To heat this room for a day, the operating cost is only 71 cents, according to WarmlyYours' Energy Use Calculator. This tool factors in the average kWh cost in Toronto, which is about 12 cents.
For the entire year, the cost to operate the system is $231.59, with the monthly operating cost during the coldest month at $39.76, according to WarmlyYours' Heat Loss Calculator. In addition to factoring in the average kWh cost in Toronto, this tool considers the desired room temperature, sealing factor, surrounding rooms and insulation factors to estimate whether radiant heat can be the sole source of heat in a room and how much it will cost to operate.
Using TempZone™ Cable is the most cost-effective way to radiantly heat this bedroom. It's also the most flexible option. To install the cable underneath tile, stone or hardwood floors, the cable is affixed to plastic strips placed at either end of the room. These strips keep the heating cable secure as it's being installed and as the self-leveling underlayment is applied. This method takes a little more time and effort than installing heating rolls or mats, but it can adapt to any room size or shape for the lowest price.
Flex Rolls vs. Cable
An alternative to heating with TempZone™ Cable is instead using TempZone™ Flex Rolls. In the case of this Toronto floor plan, a 1.5- by 70-foot TempZone™ Flex Roll offers 93 percent coverage compared with TempZone™ Cable's 96 percent coverage. This Flex Roll is $300 more expensive than the cable at $945; however, it offers 15 watts per square foot compared with cable's 12 watts. This greater watt density delivers heat faster and more strongly, which can be an added benefit during the wintertime.
Get a quote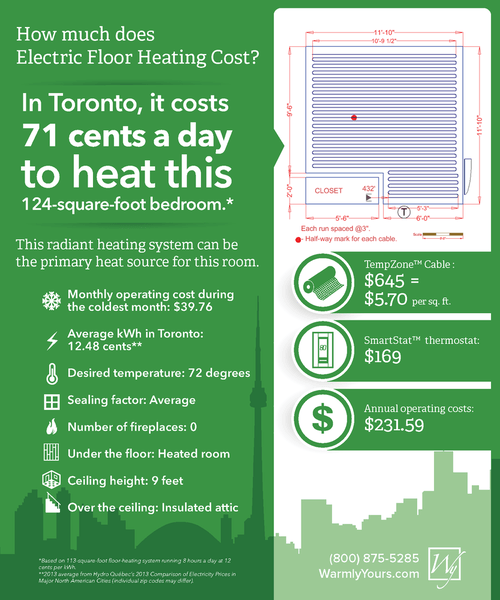 To determine which system is best for your room and how much it will cost, check out our Instant Quote tool to get started. You can also submit your floor plan online or email or fax it to an account manager in order to get a quote as well as a detailed installation plan. This plan will show how your floor-heating system should be installed within your room.
Plus, if you plan to install the radiant floor heating system yourself, give our technical experts a call with any questions. Our experts are available 24/7 at 800-875-5285.
For more information, visit www.warmlyyours.com.
Sources:
www.worldweatheronline.com/Toronto-weather-averages/Ontario/CA.aspx

Links:
Instant Quote: www.warmlyyours.com/my_projects/new
Energy Use Calculator: www.warmlyyours.com/tools/cost-calculators
Heat Loss Calculator: www.warmlyyours.com/tools/heatloss-calculator

Related Articles:
The Most Affordable Electric Radiant Heating Option for a Bathroom
www.warmlyyours.com/posts/bathroom-remodeling--The-Most-Affordable-Electric-Radiant-Heating-Option-for-a-Bathroom-1152
A Radiant Living Room Retreat in the Twin Cities
www.warmlyyours.com/posts/environ--A-Radiant-Living-Room-Retreat-in-the-Twin-Cities-1148
Experiencing the Magic of Radiant Heat in an Entryway
www.warmlyyours.com/posts/floor-heating--Experiencing-the-Magic-of-Radiant-Heat-in-an-Entryway-1146
'Brotherly Love' Meets Affordable, Radiant Renovation
www.warmlyyours.com/posts/floor-heating---Brotherly-Love-meets-affordable-radiant-renovation-1142
How to Transform a Cold Basement with Radiant Heat
www.warmlyyours.com/posts/basement-remodeling--How-to-Transform-a-Cold-Basement-with-Radiant-Heat-1138