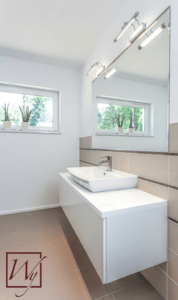 When it comes to our day-to-day lives, "convenience" seems to be at the top of everyone's list. We want solutions that are going to make our lives easier and more comfortable.
Whether you are a do-it-yourselfer or an experienced trade professional, WarmlyYours offers convenient solutions to make your home as cozy and comfortable as can be. Case in point: How do you conveniently heat a small bathroom? Environ™ Easy Mats allow you to roll out a floor-heating mat right under laminate or floating wood without any cutting or turning. They can also be installed under carpeting in the United States. These mats are ideal for heating specific areas of a room, when you don't necessarily need 100 percent coverage. For instance, you can heat the part of a living room where you spend the most time, or you can heat the area in front of your bathroom sink where you stand the most.
The cost of convenience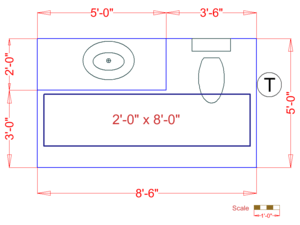 In this case (see floor plan), Environ™ Easy Mats were able to cover more than half of a small bathroom, warming the floor in front of the sink and toilet. In total, the bathroom consists of 42.5 square feet, 25.5 of which is eligible for floor heating. One Environ™ Easy Mat was able to cover 16 square feet of this space.
To install it, the homeowner simply needed to roll out the mat where the heat was needed and install the laminate flooring over it. This ease and convenience should suit any DIYer's needs; however, what's even more impressive is that the mat cost less than $200! The price of the 2- by 8-foot mat alone is $160. That's only $10 per square foot! Add a SmartStat™ thermostat and the total price is still low at $329.
Furthermore, the cost to operate the system is incredibly low. To run the system for 4 hours a day, it would only cost you 3 cents a day*, on average, to heat your bathroom floors. That's according to WarmlyYours' Daily Energy Use Calculator.
Just imagine feeling the warmth underneath your feet every morning for just pennies a day!
Calculate your cost
If you're interested in adding radiant heated floors to your bathroom — or any other room in your home — get started with a free quote on www.warmlyyours.com. By using the Instant Quote tool, the WarmlyYours team can tell you which products you'll need and how much they will cost. Plus, our tool gives you the option to upload a drawing or image or your floorplan. If you use this option, WarmlyYours will provide you with a customized installation plan with a quote the next business day. Soon enough, you'll know exactly how much it will cost to add the luxury of heated floors to your room.
Also, if you plan to install the floor-heating system yourself, our technical support team is available to help you 24/7 at 800-875-5285.
For more information, visit www.warmlyyours.com.
*Based on the national average of 10 cents per kilowatt-hour.

Links:
Instant Quote: www.warmlyyours.com/my_projects/new
Energy Use Calculator: www.warmlyyours.com/tools/cost-calculators
Heat Loss Calculator: www.warmlyyours.com/tools/heatloss-calculator

Related Articles:
Living with Affordable Radiant Heated Floors
https://www.warmlyyours.com/en-CA/posts/floor-heating--Living-with-affordable-radiant-heated-floors-1108
Affordable Heated Floors Warm up Laundry Room
https://www.warmlyyours.com/en-CA/posts/environ--Affordable-Heated-Floors-Warm-up-Laundry-Room-1105
Radiant heated floors spruce up a small bathroom
www.warmlyyours.com/posts/bathroom-remodeling--Radiant-heated-floors-spruce-up-a-small-bathroom-1102
In the Kitchen with Radiant Heat
www.warmlyyours.com/posts/floor-heating--In-the-Kitchen-with-Radiant-Heat-1098
Radiant Heat Makes Mid-Sized Bathroom Magnificent
www.warmlyyours.com/posts/bathroom-remodeling--Radiant-Heat-Makes-Mid-Sized-Bathroom-Magnificent-1093