Like a pair of clean socks fresh from the dryer, in-floor radiant heat can bring the same soothing feeling of warmth to any room in your home — even your laundry room. When you're spending hours a day washing, drying, folding and ironing clothes, a heated floor can help you pass that time a lot more comfortably.
In-floor radiant heat from WarmlyYours Radiant Heating offers an affordable way to heat your laundry room. However, what if you want to save even more by installing laminate instead of tile or stone flooring in your laundry room? In that case, you'll want to purchase one of our Environ™ floor-heating products.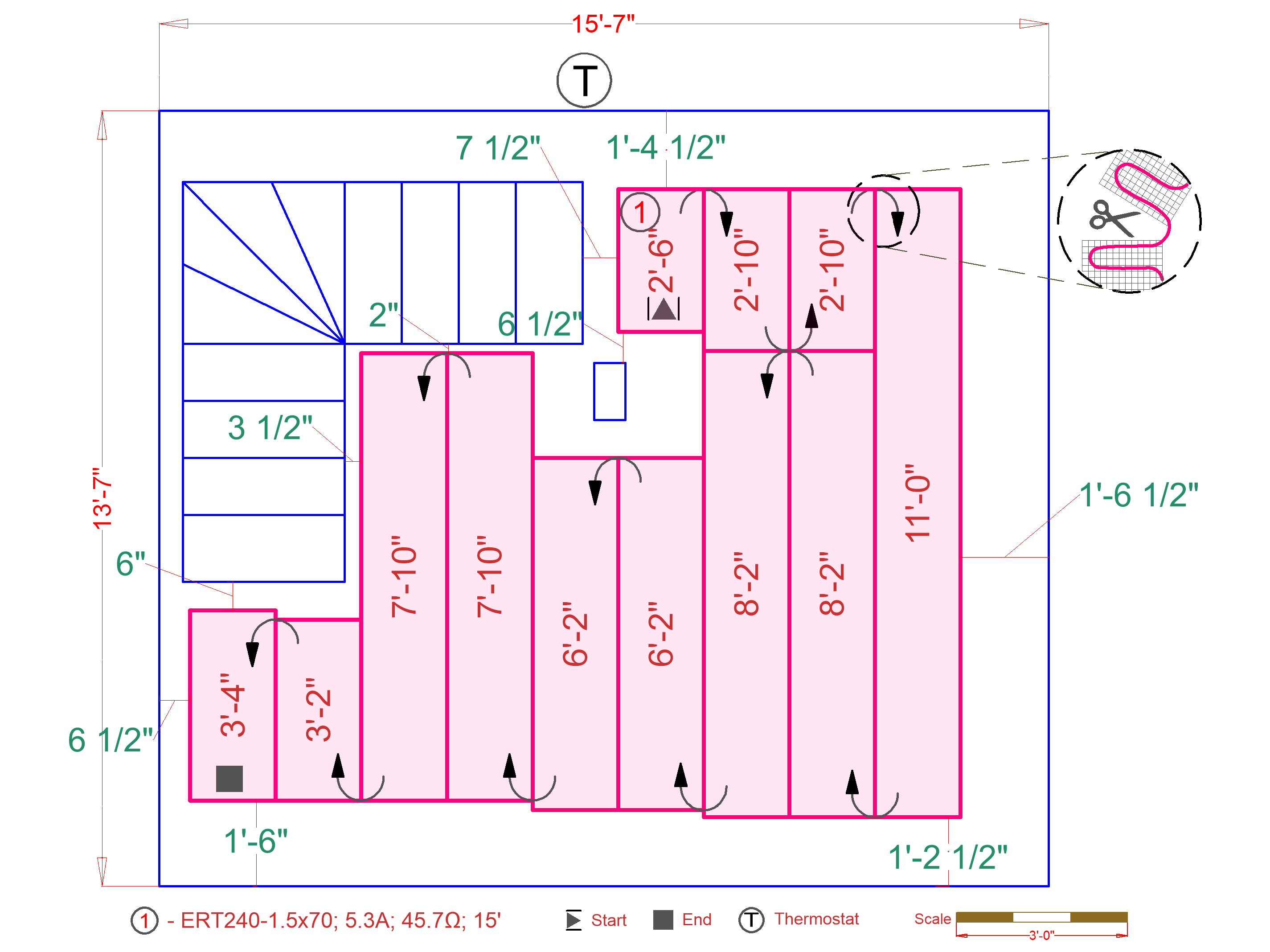 In this case (see floor plan), the customer used an Environ™ Flex Roll, which can be applied underneath carpet (in the United States only), laminate or floating wood floors.
The cost of heated floors
This 1.5- by 35-foot roll is affordably priced at less than $500. To be exact, the Environ™ Flex Roll costs $473, which comes out to only $9 a square foot. In addition to the heating roll, you'll need a thermostat to operate the system. A SmartStat™ thermostat costs $169, bringing your total to $642. That's less than the cost of your washer and dryer!
Furthermore, the cost to operate the system is lower than many people might realize. To run the system for 8.5 hours a day (which is the default setting on the thermostat), it would only cost you 22 cents a day, on average, to heat your laundry room floors. That's according to WarmlyYours' Daily Energy Use Calculator.
Imagine spreading the warmth of your dryer to the entire room with affordable electric heated floors.
Get a quote
If warming up your laundry room — or any other room in your home — sounds appealing to you, WarmlyYours has multiple tools to help get you started. First, we suggest sending us a floor plan. Planning your project ahead of time will ensure that we provide you with the most accurate installation plan for your room.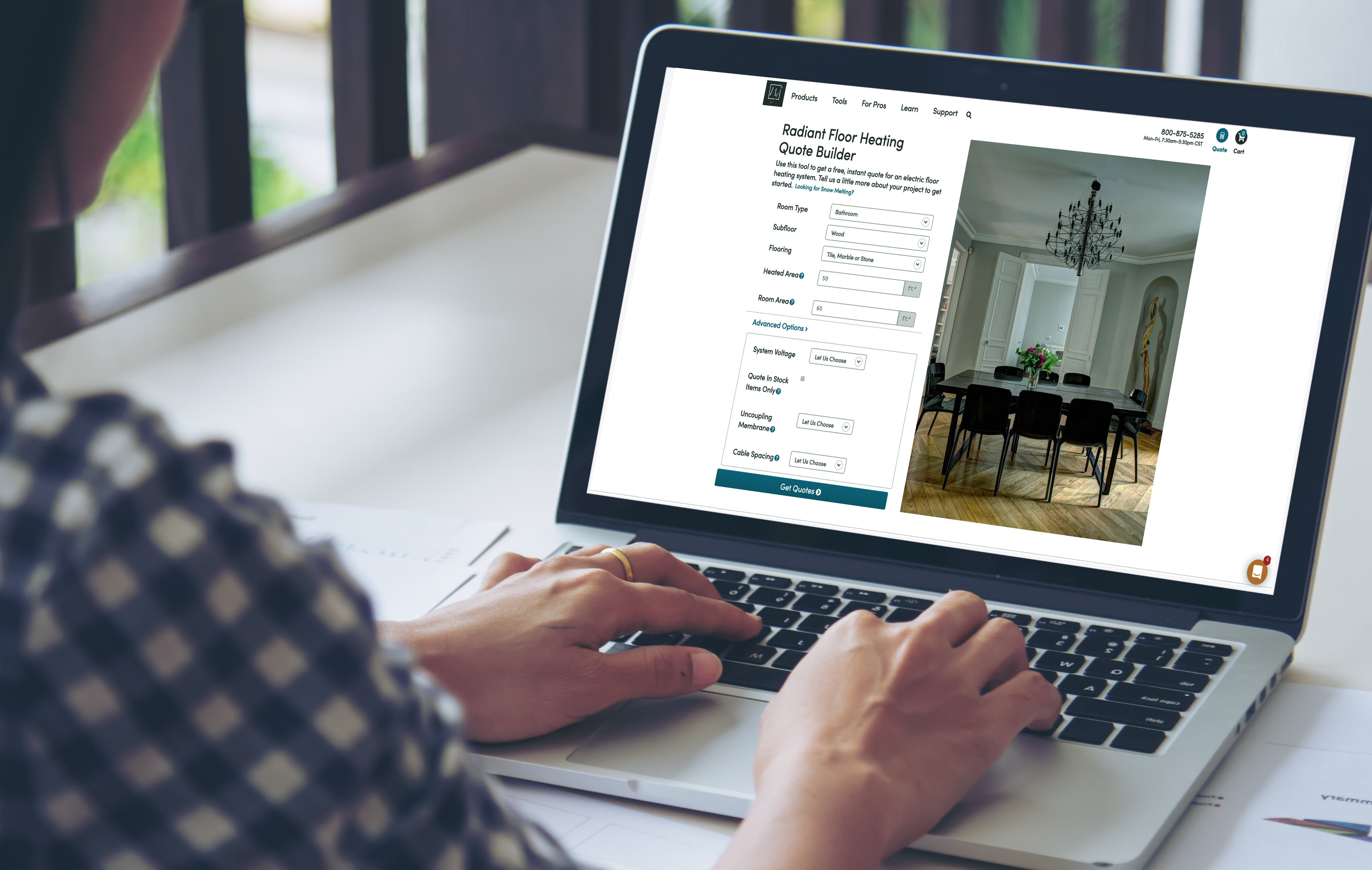 Using our website, you can either select to use an online design tool to draw your room, upload an image or floor plan of your room, or schedule a free in-home measurement. Once one of these options is completed, the WarmlyYours team will get back to you within 24-48 hours with a free, customized installation plan, which will detail the products you'll need for your project; how they should be installed for optimal performance; and, of course, the total cost of the project.
For an even faster option, you can use the WarmlyYours Instant Quote tool. Once you select heated floors, your room type, the square footage and a few other details, a quote will be calculated that shows you the recommended product for your project and its cost, as well as any alternative options along with their costs.
Once you begin your project, WarmlyYours is available 24/7 for technical support. Just call 800-875-5285 if you need any help along the way. If you've already submitted a floor plan, our team will be able to pull it up for easy reference.

Resources:

Related Articles:
---
Tell us About your Project
Our team of Radiant Experts is ready to help! Just tell us a little about yourself and your project to get started.
---
Did you find this post helpful?
Let us know by giving it some applause.
---
---