Floor heating can seem pretty elusive if you've never experienced it before. And with different types and brands of in-floor heating available, the facts can get confusing. After all, how much it costs, how it is installed, and how it works all depends on the brand that you choose. To explain this further, let's look at myth #1!
Myth #1: Radiant heat uses tubes of hot water to operate.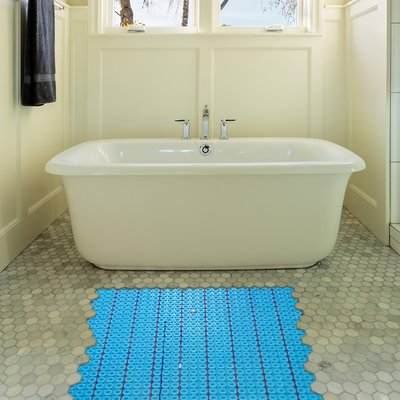 This is a tricky one because some forms of floor heating do use tubing with hot water to operate. This is called hydronic floor heating. However, not all floor heating is hydronic. The alternative is electric floor heating.
In general, hydronic floor heating must be decided upon before a home is constructed because it relies on a boiler and hot water heater to operate. Once a home is built, it is very difficult to retrofit it with hydronic floor heating. On the other hand, electric floor heating is ideal for remodeling because it can be installed under nearly any flooring substrate. When you're replacing the flooring with something more up to date, that's the perfect time to consider adding electric floor heating.
Myth #2: Radiant floor heat is expensive to install.
Generally, the upfront cost of hydronic floor heating is much more expensive because of the boiler required. A boiler costs around $4,000. Electric floor heating is less expensive to buy and install — plus, you can reduce or eliminate any labor costs by doing it yourself. WarmlyYours Radiant Heating offers dozens of videos to help walk you through the process. We also offer a 24/7 technical support line to help guide you through any issues. Just call 800-875-5285 and you will be promptly assisted.  
Myth #3: Floor heating is only for bathrooms.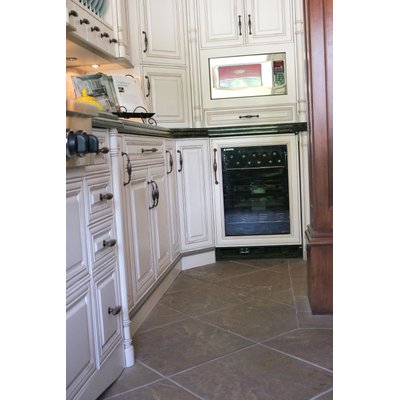 Floor heating is great for bathrooms, but it is not only meant for bathrooms. The majority of homeowners choose to install radiant floor heating in their bathroom because it often features tile, which is naturally cold to the touch. When you add cold tile to stepping out of a warm shower, it creates a drastic difference that leaves any homeowner dreading that post-shower step.  
However, floor heating is ideal for any room that's colder than it should be. Kitchens, bedrooms, basements, offices and family rooms are other spaces that benefit from radiant floor heat. WarmlyYours radiant floor heating can be installed under tile, stone, hardwood and even carpet (in the U.S.) to add supplemental warmth where it's needed.
Myth #4: Radiant heat cannot be your primary heating source.
Though electric floor heating is great for supplemental heat, it can act as your primary heating source as well! WarmlyYours offers a free online tool that calculates your home's heat loss to determine if you can use electric radiant heat as your primary heat source. By filling out information about your home, you can see how well radiant heat would work and how much it would cost per month.
Myth #5: Radiant heat is expensive to operate.
If you're using electric floor heat as your primary heat source, your electric bill will increase noticeably. However, if you're using it for supplemental heat, you might be surprised at how little it adds to your bill. On average, it costs $0.22 a day to heat a 35-square-foot bathroom for eight hours. That adds up to $6.60 a month. Even if you added a 70-square-foot kitchen to the bill, it would only increase another $13.20 per month. To calculate the operating cost for one of your rooms, check out WarmlyYours's Operating Cost Calculator here.
Were you surprised about any of these debunked myths? If so, share them with your friends by clicking the Facebook, Twitter, LinkedIn or Google Plus buttons at the top right of this article. 
---
Tell us About your Project
Our team of Radiant Experts is ready to help! Just tell us a little about yourself and your project to get started.
---
Did you find this post helpful?
Let us know by giving it some applause.
---
---