When it comes to do-it-yourself (DIY) projects, instructional videos are an invaluable tool. Whether you're a homeowner taking on a new project or a trade professional looking for expert installation tips, YouTube is the place to look. In fact, more people than ever are turning to the website for their radiant heating needs. WarmlyYours Radiant Heating's YouTube page saw a 274 percent increase in subscribers from 2015 to 2016. Plus, it experienced a 344 percent increase in video views and a 419 percent increase in video shares.
It's no surprise that the most-viewed videos generally had to do with installation. The Top 5 videos explain how to install a thermostat, floor-heating system and snow-melting system. We've compiled summaries of each of them here to demonstrate exactly why they're so helpful.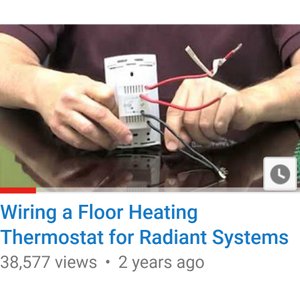 1. Wiring a Floor Heating Thermostat for Radiant Systems
Once you've properly installed a floor-heating system, you have to get it up and running! That means installing a thermostat. In about 2 minutes, this video explains exactly how to wire a SmartStat™ thermostat to your floor-heating system.
Note: The SmartStat™ thermostat was recently replaced with the nSpiration Series of thermostats. To see how to wire that series of thermostats to a floor-heating system, click here.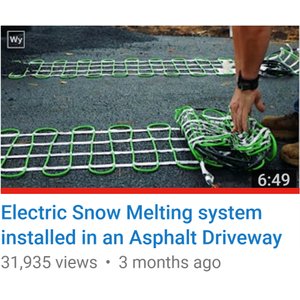 2. Electric Snow Melting System Installed in an Asphalt Driveway
The next most popular video demonstrates how to install a snow-melting system in an asphalt driveway. Snow melting is one of the least understood types of radiant heating, so this video does a fantastic job of showing exactly how it's installed to give viewers insight into how this brilliant technology works.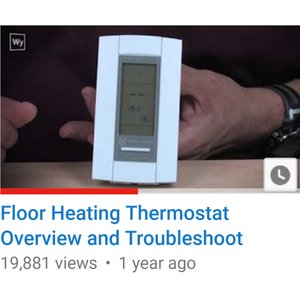 3. Floor Heating Thermostat Overview and Troubleshooting
What do you do when a strange symbol pops up on your thermostat? You attempt to troubleshoot the issue. WarmlyYours compiled all of the symbols that could appear on your SmartStat™ thermostat and created a video to explain what they mean. Instead of fumbling through a manual, the user can just watch this 10-minute video to solve their problem.
Note: The SmartStat™ thermostat was recently replaced with the nSpiration Series of thermostats. For more information about the new series, visit here.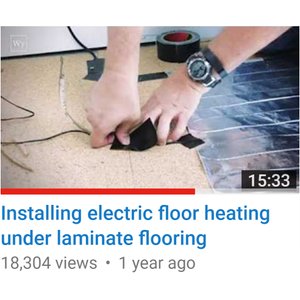 4. Installing Electric Floor Heating under Laminate Flooring
Most people who have selected laminate flooring for their home probably don't realize that it can tolerate radiant floor heat. In fact, there's a special radiant heating roll specifically designed for this flooring type. This video shows step-by-step how to install Environ™ floor-heating rolls under laminate flooring.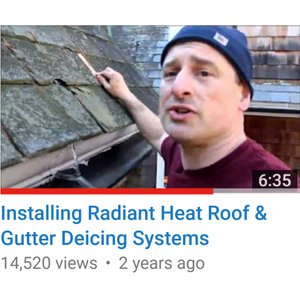 5. Installing Radiant Heat Roof & Gutter Deicing Systems
Similar to snow-melting systems, roof and gutter deicing systems are not familiar to most homeowners. However, they can protect a home from winter disasters like ice damming. In less than 7 minutes, Rob Robillard (A Concord Carpenter) shows how to install the heating cable within the gutter and along the edge of the roof.
With videos like these at your disposal, you can make sure that your radiant heating projects go off without a hitch. To view more popular YouTube videos about radiant heating, check out WarmlyYours's YouTube page here. To view the entire collection of WarmlyYours videos, visit https://www.warmlyyours.com/en-CA/video-media. 
---
Tell us About your Project
Our team of Radiant Experts is ready to help! Just tell us a little about yourself and your project to get started.
---
Did you find this post helpful?
Let us know by giving it some applause.
---
---