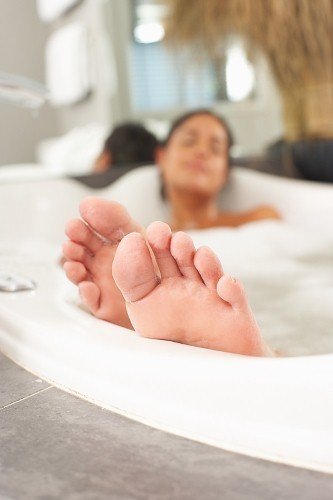 Although it can be relaxing on a late summer night with a chill in the air, most folks forgo a steaming hot bath in the middle of July. But even if you're not looking to take advantage of luxuriously warm showers quite yet, summer is the best time to update your bathroom for the coming autumn and winter.
Spa-like designs are a popular cold-weather home renovation. Beat the busy traffic later in the year and get in on the trend before everyone else. Take stock of your bathroom and think about what you want changed and how best you can enjoy a crisp autumn afternoon. Perhaps with a good book in the bath and a window open to the rustle of leaves, or in a brightly lit room with pulsing jets, piping hot water and a view of snow on the ground outside.
Take advantage of open contractor schedules and get your bathroom renovated just in time for spa-season. While you're making your checklist, consider some of these suggestions for crafting the ideal redesigned bathroom.
1. Enlarged windows. Making your windows bigger, especially those close to the tub itself, can enhance your enjoyment by emphasizing the pleasant juxtaposition of the outdoors and indoors. Larger windows also let in significantly more natural light, which is always great for relaxation - as well as appreciating every corner of your beautiful, newly renovated space!
2. Install new flooring. Bathroom floors take a lot of wear over the years - getting scuffed, dripped on and scratched, which means they lose a lot of their glamour quickly. Replace your old tiles, laminate or linoleum with new, durable flooring, and while you're doing so, consider installing radiant floor heating. Radiant heat is an eco-friendly alternative to duct heat and it's easily adjustable to your needs - so, whether you want the whole room heated or just the floor set to a comfortable temperature so your toes won't freeze out of the shower, a radiant heating system can help.
3. Get some towel warmers. Installed onto a wall adjacent to the shower and tub, these luxurious hotel-like amenities are a wonderful treat that never lose their novelty.
4. Rethink your colors. Even if it's a minor alteration - some trim around a door frame or over your mirror - changing your color scheme or putting up new wallpaper can have a rejuvenating effect on the room. Consider color themes that you find most relaxing and go with those.
5. Put in mirror defoggers. These clever contraptions, like the ones offered by WarmlyYours, are easy to install and manage to do away with the one irritating thing about a steamy shower or luxuriously long hot bath. Energy-efficiency further secures these as spa must-haves for any bathroom.
6. Get yourself atmospheric lighting. No spa is worth its bath salts without really great mood lighting. Whether you have track lights with a dimmer switch or stock up on tea candles to keep under your sink, make sure your bathroom is outfitted for atmosphere and relaxation.
A great spa is about two kinds of warmth. The first is the obvious restorative effects of good hot water - the second is a welcoming glow, an assurance of peace of mind, relaxation and comfort. When you're at a memorable spa, there's not a care in the world and you're able to concentrate on nothing more complicated than letting go of tension. Just imagine if that spa were down the hall from your living room - because it certainly can be.
---
Tell us About your Project
Our team of Radiant Experts is ready to help! Just tell us a little about yourself and your project to get started.
---
Did you find this post helpful?
Let us know by giving it some applause.
---
---