A Strong Start for Radiant Heating Sales
The first quarter of 2017 started strong for WarmlyYours Radiant Heating with robust sales growth across nearly every product line. This upward trajectory is expected to continue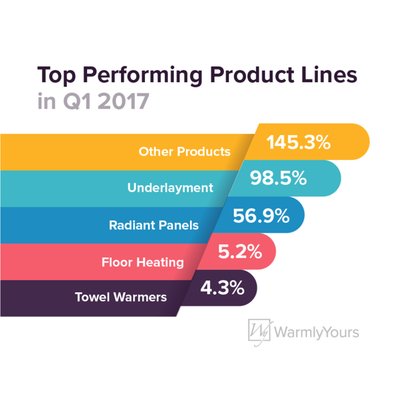 throughout the year in synchrony with the projections of most remodeling and new construction indicators. The growth for WarmlyYours was in large part due to increases in WarmlyYours' flagship product category: electric floor heating (EFH).
Additional growth vectors for WarmlyYours Q1 2017 sales were:
-       Augmentation of existing digital marketing strategy for e-tailers;
-       Sizable gains in the Canadian marketplace;
-       Steady increases in online orders;
-       New product launches and significant website updates.
Another contributing factor in the first quarter has been the continuation of accelerated growth in national remodeling activity, which is expected to slow throughout the year while remaining positive. This is despite a housing market that is facing some daunting challenges including a precariously low supply of available inventory and a correspondingly high level of per-unit pricing.
Can a Seller's Housing Market Sustain Significant Remodeling Activity?
Nationally, remodeling activity has been on a long-term upward trend over the last several years as the housing market has made its slow but inevitable return from recession level lows. The rate of growth within the last year has been particularly rigorous, however, the most recent Leading Indicator of Remodeling Activity (LIRA), a quarterly assessment of remodeling expenditures compiled by the Joint Center for Housing Studies of Harvard University, is projecting that the rate of growth in remodeling activity will slow (while remaining positive).
According to the LIRA, the first quarter of 2017 posted an impressive 7.3% rate of change in remodeling expenditures. However, the LIRA also projects that this rate of change will decline throughout the year until it reaches 6.1% in the first quarter of 2018. Chris Herbert, the managing director of the Joint Center, offered some explanation for this relative tempering of activity.
"Homeowners are continuing to spend more on improvements as house prices strengthen in most parts of the country. Yet, recent slowdowns in home sales activity and remodeling permitting suggests improvement spending gains will lose some steam over the course of the year," said Herbert.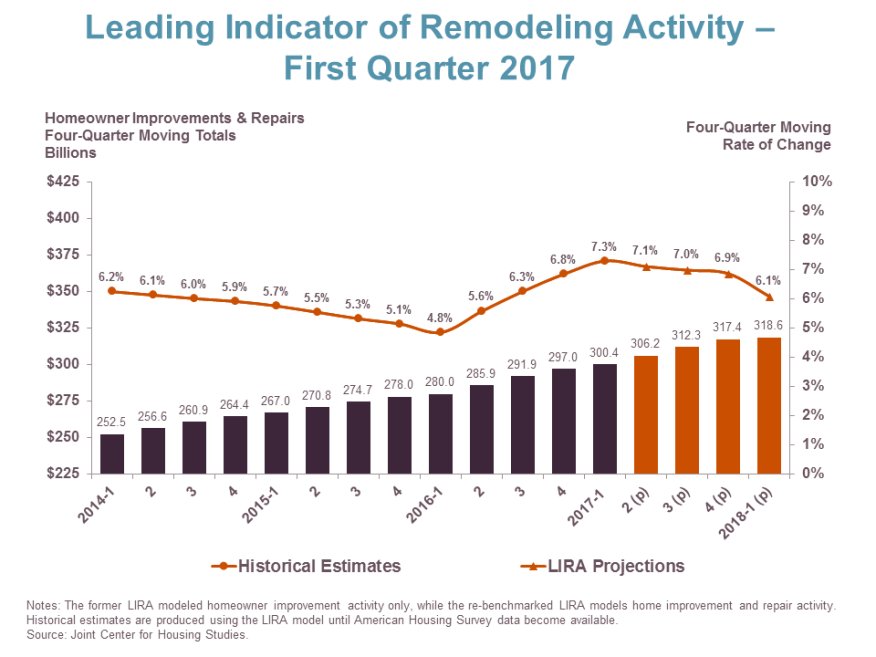 These sentiments appear to be shared by a large number of professionals engaged in the remodeling and construction industries. A Q1 2017 study from the National Association of Home Builders (NAHB) found that builder sentiment waned from an unusual Q4 2016 high. The NAHB Housing Market Index showed that builder sentiment dropped from 67 at the end of last year to 55 in Q1 of this year. This index is based on a positive/negative polarity delineated at 50, so while the substantial 12 pt. drop certainly represents a marked decrease, the 55 score still remains positive.
Similarly, a study released from the Farnsworth Group, comprised of survey results from a wide variety of remodeling and building professionals, showed that the vast majority of respondents expected restrained growth in the coming quarters (between 11% to 20%). Finally, Metrostudy's National Residential Remodeling Index projects that big-ticket remodeling activity will rise 4.4% this year, 3.1% in 2018, and 2.7% in 2019.
The consistent thread throughout the remodeling/building industry forecasts is growth, but slower, more nuanced growth. Much of this tempering of expectations is due to a gridlocked national housing market.
The current housing market is characterized by three main elements: a dwindling supply, rising unit prices, and increasing demand. The former point can be explained by upward trending national wages and a larger number of new potential homebuyers aging into the market. The dwindling supply of available homes is related to the long-lasting hesitancy to engage in potentially risky endeavors like property development in the wake of the Great Recession. So, with more people with more money but less available units, it's no great surprise that the prices of homes are growing more and more steadily.
However, there are some indicators that this supply gridlock will loosen. According to the National Association of Realtors (NAR), the total inventory supply at the end of March 2017 had increased 5.8% (a figure that is still 6.8% below March 2016). The unsold inventory of housing units represented a 3.8-month supply at current sales rates. A report from the U.S. Census Bureau showed that in March 2017 new privately-owned housing project starts were up 9.2% from the previous year, and that building permits for similar projects were up 17%—implying a substantial increase in national building activity to help address the shortfall of supply.
The increasing prices of housing units has also de-incentivized some homeowners from performing substantial remodels on distressed properties to secure buyers. In Q4 2016, Zillow estimated a nearly 12% increase in "Fixer-Upper" properties that had incrementally saturated the market since the recovery from the Housing Crisis began. This could mean that first time buyers may turn to completely renovating these properties themselves due to a lack of other affordable options.
 By the same token, increasing unit pricing has not been uniform across all levels of available inventory. Many lower-value homeowners hoping to "trade up" may have held on to their properties for fear of not being able to afford a mid-range home. Redfin found that Q1 pricing for lower-value homes (sub $240,000) grew 8.4%, which greatly outpaced the 5.5% rate of growth for mid-range homes during the same period. This disparity could lead to more lower-value homes entering the market place for first-time homebuyers to snatch up.
Q1 2017 Performance for WarmlyYours Products
The first quarter of 2017 was marked by significant growth in consolidated sales across nearly all product lines, with the notable exclusion of snow melting and deicing systems which declined in large part because of a mild winter. The cumulative growth of WarmlyYours sales led to a 5.3% (2.2% in the U.S. and 19.7% in Canada) increase when compared to prior-year-period.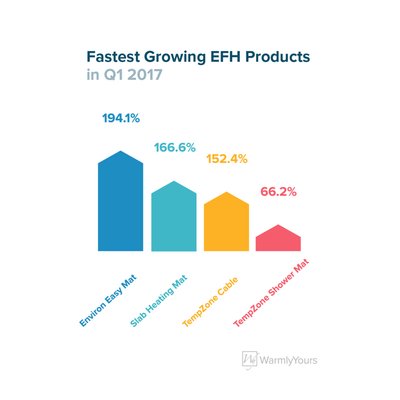 This increase was led by a 5.2% jump in EFH consolidated sales, which represents nearly 72% of total WarmlyYours consolidated Q1 2017 sales. In the U.S., there was a 4.4% increase, while WarmlyYours Canada posted an impressive 9.4% uptick.
When breaking down the numbers for EFH sales, a few surprising first quarter developments come to light. TempZone, the flagship EFH product line, slipped slightly from 88% to 87% of total EFH sales, while Environ remained unchanged (1%), and Slab Heating inched up from 1% to 2%. Slab Heating, a product line associated with extensive remodeling or new construction, showed a 64.4% increase in consolidated sales. The growth of this product line, which must be embedded in a concrete slab, may prove to be related to increases in new construction projects as builders continue to address the nationwide shortage of housing inventory.
Unsurprisingly, TempZone 3.7-watt Heating Cable has continued its upward trajectory that began when it was introduced in Q4 2015. This cable posted 152.4% growth between the first quarter of 2016 and Q1 2017. A huge driving factor for the growth of this product is its compatibility with the Prodeso Cable Installation Membrane, an uncoupling membrane that provides long-term benefits to tile floors while cutting down on installation time for busy professionals. The Prodeso membrane itself showed a Q1 2017 increase of 305.5% and has grown from 22% of all underlayment sales to 44% in Q1 2017. While we expect the percentage growth of the membrane to normalize somewhat in the coming quarters, we expect the dollar-amount of sales to continue to increase.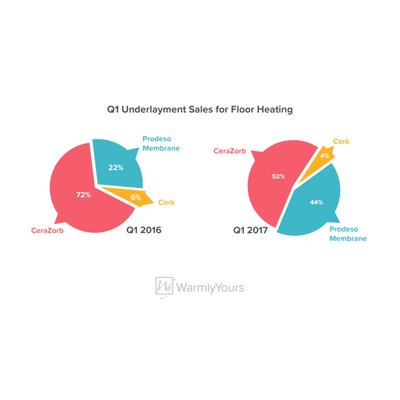 The first quarter of 2017 also showed some surprising growth in online activity from consumers. E-tailer sales for WarmlyYours grew 14% across all product lines. While EFH sales dipped slightly (-5.3%), a huge upswing in towel warmer sales (32.6%) helped bring the total into substantial growth. A large portion of these towel warmer sales came from Costco, which increased 12.6% in WarmlyYours sales. 
Additionally, WarmlyYours saw a sizeable increase in online origin orders in Q1 when compared to prior-year-period. Order numbers were up 13.5% and the dollar value of online orders increased 12.4%. WarmlyYours expects these numbers to increase even more due to the launch of revamped product pages which were pushed live in the last week of the first quarter. These new product pages reflect a more streamlined and user-friendly interface for consumers and should help increase conversion rates across all metrics.
What Does the Future Hold for WarmlyYours?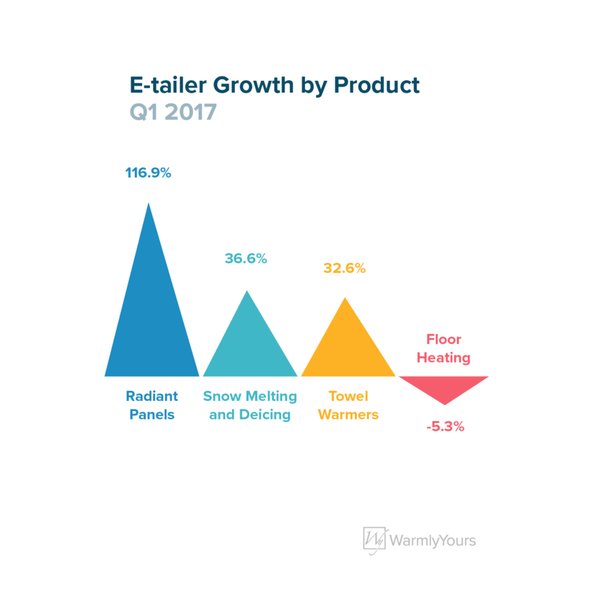 Along with website updates, the end of Q1 2017 also saw the launch of a brand-new product line: the Marquee Series of LED Mirrors. This new series features four hardwired models
of backlit mirrors, each named after a star from Hollywood's Golden Era. This represents WarmlyYours' first foray into non-heating products and we expect the series to become a popular item for both e-tailer and online orders in the coming quarters.
With the national housing market in its current state of inventory-related pressure, we expect to see a noticeable uptick in EFH sales as "Fixer-Upper" units enter the market and first-time buyers begin the necessary renovations. We also expect Q2 2017 sales of snow melting systems to continue to show a decline due a strong Q2 2016 performance and a mild 2016-2017 winter. As a whole, WarmlyYours online and e-tailer sales are poised to grow due to an expanded portfolio of available products and a more fully realized digital marketing strategy.
Julia Billen, the owner and president of WarmlyYours, said that all indicators from the first quarter point toward continued and sustaining growth in the immediate future. 
 "2017 is shaping up to be a great year for WarmlyYours. A lot of long-term projects concerning the website and our product portfolio are just coming to fruition and I couldn't be more excited about our future."
Sources:
1.     WarmlyYours internal documentation
2.     LIRA: http://www.jchs.harvard.edu/renovation-spending-continues-grow-more-slowly3.     NAR: https://www.nar.realtor/news-releases/2017/04/pending-home-sale-dip-08-in-march
4.     NAR: https://www.nar.realtor/news-releases/2017/04/existing-home-sales-jumped-44-in-march
5.     NAR: https://www.nar.realtor/sites/default/files/reports/2017/2017-02-realtors-confidence-index-03-22-2017.pdf
6.     NAHB: http://www.nahb.org/en/research/housing-economics/construction-statistics/national/new-and-existing-home-sales-reports.aspx
7.     NAHB: http://eyeonhousing.org/2017/05/remodeling-in-2016-kitchens-reclaim-top-spot-from-baths/
8.     NAHB: http://eyeonhousing.org/2017/05/private-residential-construction-spending-at-post-recession-high/
9.     Remodeling: http://www.remodeling.hw.net/benchmarks/economic-outlook-rri/remodelers-home-improvement-firms-bullish-despite-headwinds-survey-finds_o
10.  Remodeling: http://www.remodeling.hw.net/benchmarks/economic-outlook-rri/metrostudys-rri-points-to-44-rise-in-remodeling-activity-this-year_o
11.  Zillow: https://www.zillow.com/blog/more-fixer-uppers-for-sale-207293/12.  Redfin: https://www.redfin.com/blog/2017/03/home-prices-jumped-in-february-as-sales-were-constrained-by-a-double-digit-inventory-dip.html
13.  Redfin: https://www.redfin.com/blog/2017/04/luxury-market-off-to-a-strong-start-in-2017.html
14.  U.S. Census Bureau: https://www.census.gov/construction/nrc/pdf/newresconst.pdf
---
Tell us About your Project
Our team of Radiant Experts is ready to help! Just tell us a little about yourself and your project to get started.
---
Did you find this post helpful?
Let us know by giving it some applause.
---
---