Houzz Survey Reveals Radiant Heated Floors, Shower Benches, and 'Upgrades' Among Key Trends
It can be hard to read your customers' minds. But surveys and questionnaires from around the industry go a long way to uncovering what the average customer is looking for in a bathroom remodel.
The latest Houzz Winter Bathroom Survey polled homeowners regarding their bathroom remodeling plans and progress. When Houzz asked homeowners the simple question of "Why remodel the bathroom?" there were plenty of great reasons. "To get the only staircase out of the only bathroom," and "It's 45 years old and the floor is failing" both seem like great reasons to overhaul the bathroom to us. The survey also uncovered some key trends and homeowner choices that you can use in your business to guide marketing and sales as you move into the fall/winter season. No mind reading required.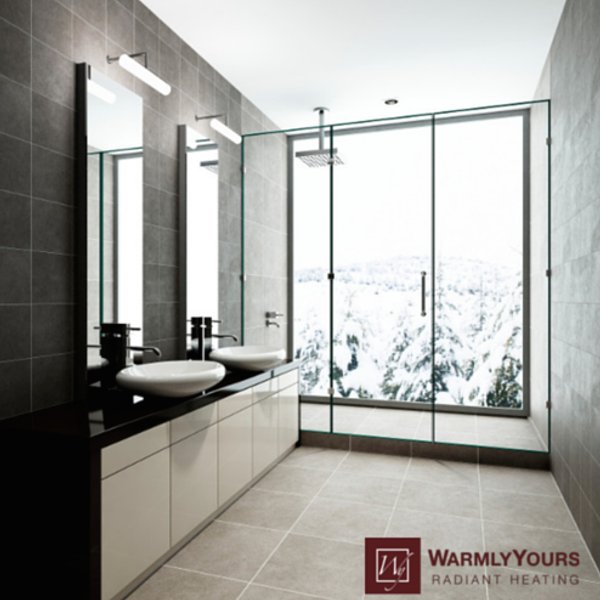 1) Radiant Heated Floors
This year when reporting which features would be part of their bathroom remodel 28 percent of homeowners shared that when tackling new floors, they were also adding radiant heat flooring such as those offered by WarmlyYours Radiant Heating. Coming in at No. 4 on the list overall, it beat out other key items including double flush toilets for eco-conscious homeowners at No.5 (23 percent) and towel warmers (a touch of luxury and warmth with winter right around the corner) at No. 6 (19 percent). For the full list, click here.
Bathrooms continue to be a top-selling room for floor heating systems. In WarmlyYours' "WarmlyYours Radiant Heating Q2: 2014 Industry Report," bathrooms dominated top selling rooms for floor heating systems, accounting for 55.4 percent of installs.
2) Loving Light
Adding more light is also top of mind for bathroom remodelers. Sixty percent of homeowners are making the addition of a window (48 percent) or skylight (12 percent) a priority, according to the Houzz survey.
"It's important to have a visual link to the outdoors; it's neat to have some clear glimpse of the outside, even if it is just one panel of a window where you can see a tree outside or a skylight where a bird flies overhead," says San Francisco architect Malcolm Davis of Malcolm Davis Architecture. "The more light the better. Sunlight is the best killer of mold. If you can make the windows larger that's the biggest change you can make," he adds.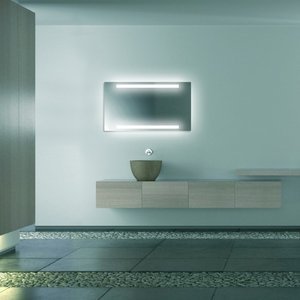 Focused on light, another 41 percent of homeowners will add a lighted vanity mirror. You can suggest combining a LAVA® Mirror electric radiant panel from WarmlyYours Radiant Heating with LED lights in unique designs to add the additional lighting homeowners are looking for. RGB LED lights for LAVA® Mirrors can change color and accent the space well. A smaller percentage (7 percent) of homeowners also will add LED lights in the showerhead.
3) Good-Bye Tubs, Hello Benches
In a possible move toward greater accessibility and less cost, 43 percent of homeowners will forgo a tub, even in the master bathroom. Also, 59 percent of 65+ year olds responding to the Houzz survey were eliminating the tub.
"As more people are choosing to age in place, bathroom designers are responding by creating more accessible design. Large, easily accessible showers have replaced soaking tubs in popularity," suggests Basking Ridge, N.J.-located TrueLeaf Kitchens.
Fifty-seven percent of respondents to a National Kitchen & Bath Association (NKBA) survey earlier this year specified bathrooms they described as universal design/accessible in 2013. And 60 percent anticipated doing more in 2014.
In the same NKBA survey 70 percent of designers predicted an increase in showers without thresholds for easy entrance, and many of these were also planning to incorporate benches to provide seated showering. WarmlyYours offers safe heating for wet locations, including shower benches to add warmth and support in the bathroom.
4) Going Green
Keep tabs on eco-friendly remodeling options. A dominating 91 percent of new toilets installed will be high efficiency.
5) Master Bathrooms are King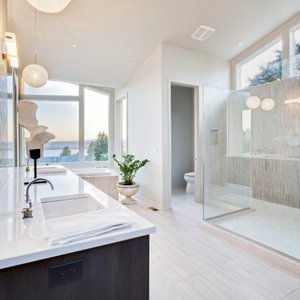 Which bathroom do your customers want to remodel? Sixty percent want to remodel the master bath, 35 percent are planning to remodel another full bath, and just 5 percent want to tackle the powder room.
6) Upgrading Features is a Top Driver
Knowing a homeowner's motivation for remodeling—the "why"—is valuable information for planning marketing efforts. The largest percentage of homeowners (49 percent) told Houzz they were choosing to remodel in order to upgrade features and fixtures, which it is interesting to note, indicates more interest in radiant heat floors and other comfort-driven, upgraded bathroom features. Thirty-seven percent are upgrading to make the space more functional (which we're sure includes that homeowner who needed to take the home's only staircase out of the home's only bathroom), and 31 percent are remodeling to increase their home's value.
As you work to close out 2014 strong, capitalize on homeowners' desires for upgrades and comfort with radiant heating products and plan for light-filled, accessible designs. Knowing what your customers are looking for will help you prepare the best information and messaging as you approach them about bathroom remodels.
What trends are you seeing among your customers? We'd love to hear what your customers are focused on for their bathroom remodels. E-mail us at info@warmlyyours.com, share with us on the WarmlyYours Facebook page, or tweet us at @WarmlyYours.
Sources:
http://www.remodelista.com/posts/expert-advice-essential-tips-for-designing-the-bathroom
---
Tell us About your Project
Our team of Radiant Experts is ready to help! Just tell us a little about yourself and your project to get started.
---
Did you find this post helpful?
Let us know by giving it some applause.
---
---