Radiant floor heating sales continued to be led by electric cable in the second quarter of 2019. This is a continuation of a multi-year trend toward the increased use of cable-based systems for floor heating applications. While traditional cut-and-turn rolls continue to lead total sales volume, our TempZone Floor Heating Cable has grown to nearly one quarter of all floor heating sales and contributed the largest increase in floor heating sales volume in Q2 2019.
Additionally, this quarter saw a sizable uptick in sales of snow melting systems, which continued stellar growth from earlier in the year that was driven by a particularly brutal 2018-2019 winter. We fully expect this trend to continue well into Q3 and our current projections estimate that 2019 will see the largest volume increase in sales since the snow melting product line was introduced in 2006.
Nationally, Q2 2019 continued to see stagnation of the housing market due to high prices and lack of available inventory and mixed projections about the future of remodeling activity.
In this report, we'll take a closer look at the causes and impacts of these developments along with analyzing the performance of radiant heating product sales within the larger context of the remodeling and housing markets.
Second Quarter Growth Led by Sales of Electric Floor Heating Cable
Perhaps the most consistent industry trend to emerge in floor heating over the last couple of years is the increasing popularity of electric floor heating cable. In the last 3 years alone, TempZone Floor Heating Cable has tripled its proportion of total year-to-date floor heating sales (up from 8% in 2016 to 24% in 2019).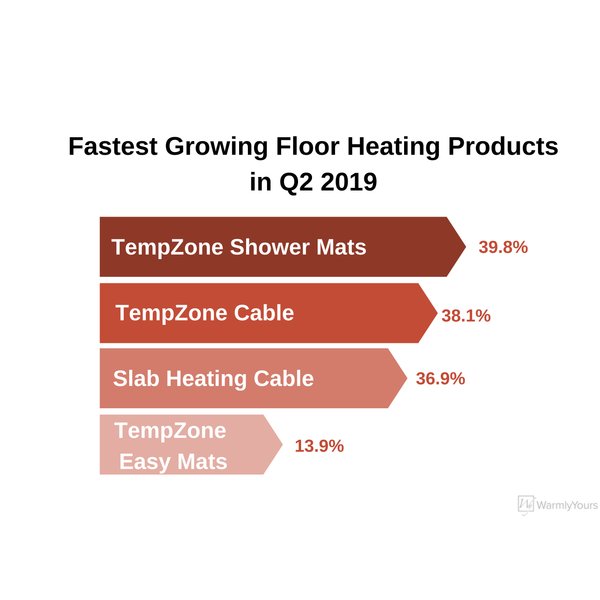 TempZone Floor Heating Cable has grown 28.9% in year-to-date sales and 38.1% in the second quarter of this year alone. While this isn't the fastest growing floor heating product (TempZone Shower Mats posted an impressive 39.8% increase in Q2 2019), it does represent the largest increase in total sales volume.
So why has TempZone Floor Heating Cable shown such strong growth for such a long period of time? The answer boils down to changes in the following categories: installer methods and preferences, the flooring types that are being heated, and how consumers are purchasing radiant heating products.  
Many installers, whether they are flooring professionals or simply DIY homeowners, are turning to installing the combination of floor heating cable and an uncoupling membrane. Year-to-date sales of the Prodeso Cable Installation Membrane, the preferred uncoupling membrane for WarmlyYours, have grown 8.9% and the membrane now makes up 64% of all underlayment sales. There are several reasons for this including both a greatly reduced installation time and the long lasting benefits of crack isolation and uncoupling that can help protect relatively fragile flooring types like tile.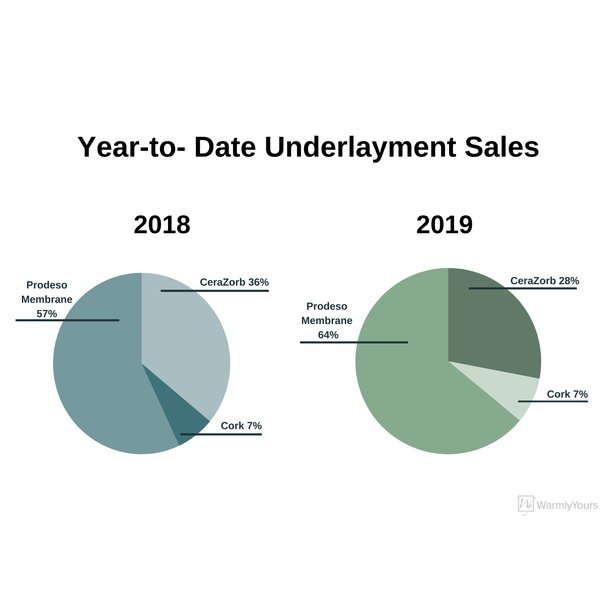 Another contributing factor to the growth of floor heating cable has been changes in the types of floors that are being heated. While tile still represents the vast majority of floors that are heated (about 87% so far in 2019), hardwood flooring is becoming a more popular choice. So far this year, the number of projects involving nailed hardwood floors have grown 23.8% compared to prior year period. Due to how nailed hardwood floors are typically installed (with sleepers), the use of our TempZone Floor Heating Cable with fixing strips is our recommended heating system for that application.
Additionally, floor heating cable sales have been impacted by shifts in how and where consumers are purchasing radiant heating systems. There have been, for several years, seismic growth patterns in ecommerce sales of radiant heating systems. However, one challenge that has always existed has been matching the dimensions of a project to a properly sized heating system without the presence of a radiant heating professional. This is because electric floor heating systems can't have the heating element cut or shortened (due to Ohm's Law regarding electrical resistance).  
Floor heating cable offers a convenient solution to this issue because there is a greater flexibility in the total square footage that can be heated by a single cable. This is because the heating element has a range of viable spacing options. However, changing the spacing of the cable not only impacts the square footage of the heating coverage but also the heat output per square foot, so a balance must be struck so that the cable isn't spaced out so far that it provides very little heat or is placed too closely together which can cause overheating. When cable is being installed with an uncoupling membrane, there are typically 2 different spacing options available. For the Prodeso membrane, these options are either 3.75" or 5". When cable is installed with fixing strips, there are 3 available installation options: 3", 4", and 5".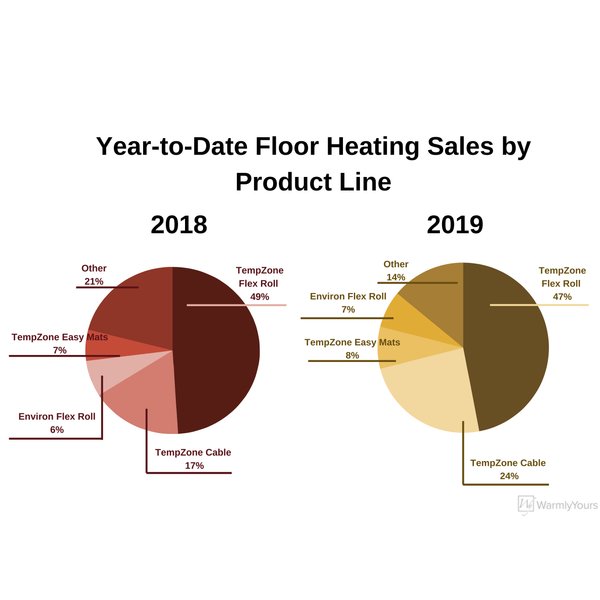 Recently, WarmlyYours has been making a concerted effort to use this flexibility of installation, coupled with the company's industry leading custom installation plan design service, to help identify opportunities for customers that live in permissible climates with the option to select a wider cable spacing. This allows for less product cost and a lower overall operating cost. Julia Billen, owner and president of WarmlyYours, said that this geo-targeting effort is being undertaken to help identify the best possible fit for each customer based on their needs.
"The heating needs of a home office in northern California are extremely different from a bathroom in New York. And the heating solution we provide should reflect that," said Billen. "We have always believed that true comfort has to be custom."
Other Vectors of Radiant Heating Sales Growth in Q2 2019
Towel warmers as a whole were down in year-to-date sales and in Q2 sales but what is interesting to note was that the newest towel warmer collections from WarmlyYours have begun to take up a more substantial role in total sales. So far this year, the Elevate, Cosmopolitan, and Premier collections have made up 28%, 5%, and 4% (respectively) of all WarmlyYours towel warmer sales. However, the Classic Collection (our first towel warmer line) still makes up 61% of those sales.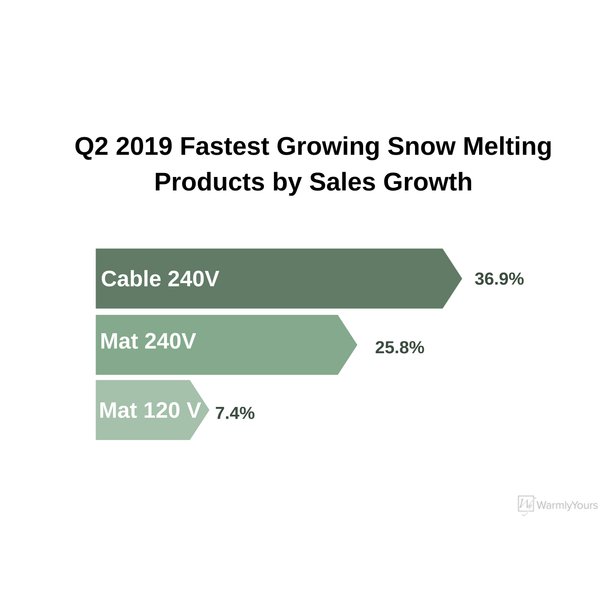 Another significant driver of growth in the second quarter of this year was snow melting, which grew 12.7% to become 15% of all WarmlyYours sales. This was primarily led by growth in sales of Snow Melting Cable 240V (up 36.9%), Snow Melting Mats 240V (up 25.8%), and Snow Melting Mats 120V (up 7.4%).
A significant driver of this snow melting growth has been a shift in the types of snow melting applications that are most popular. A year ago, walkways only represented 33% of all projects. That number has grown 42% to become 40.1% of all snow melting projects. Walkways are typically made of concrete or pavers and because of this, snow melting cable is a viable and economical (if labor intensive) option for installation.
During the second quarter, WarmlyYours also launched a brand new online tool for estimating the operating costs for heated driveway systems, the Snow Melting Operating Cost Calculator. By simply providing a few project details like the zip code and the size of the area to be heated, the tool will identify roughly how much it would cost to run a snow melting system hourly and per snowfall.
Due to severity of the preceding winter and our investment in marketing support for snow melting (including the development of the Snow Melting Operating Cost Calculator), we expect sales in Q3 2019 of snow melting to increase substantially over last year and to ultimately result in 2019 being one of our most significant years for snow melting sales in terms of volume.  
Additionally, the second quarter saw the launch of our newest product line, Shower Waterproofing and Floor Heating Kits. These new kits are the first in the industry to combine all of the elements of a shower pan waterproofing kit with a pre-sized electric floor heating system. The integrated heating system will warm the tile shower floor evenly so that there are no cold spots around the perimeter, which occur naturally when using the shower's water to warm a traditional shower floor. The shower pan, which is pre-sloped, eliminates the need for a traditional mud bed which can greatly cut down on installation time and effort. Our shower kits also have several advantages over similar products such as an integrated hair trap in the drain assembly, a stronger drain flange, a wider variety of available grate covers, and a denser shower pan.
There has been substantial customer interest in these products so we're hopeful that this will turn into a significant product line for sales within the next few quarters.
Remodeling Expectations Wane Due to Limited Home Sale Activity
Nationally, the second quarter of 2019 saw continued growth in several key economic metrics, including a 2.1% increase in the GDP and a 4.9% increase in disposable personal income. Additionally, the unemployment rate dropped from 3.8% at the end of the first quarter to 3.7% by the end of June.
While increased income and a strong national economy would typically be a fertile breeding ground for increased home sales activity, the housing market continues to be suppressed by a lack of available inventory. According to Lawrence Yun, the chief economist for the National Association of Realtors (NAR), home sales actually regressed in the second quarter of this year.
"Home sales are running at a pace similar to 2015 levels – even with exceptionally low mortgage rates, a record number of jobs and a record high net worth in the country," said Yun. "Imbalance persists for mid-to-lower priced homes with solid demand and insufficient supply, which is consequently pushing up home prices."
The increase in pricing for available homes has only exacerbated the problem. Attom Data Solutions reported that median home prices for single family homes and condos reached a new peak in Q2 2019, up 10.8% from the previous quarter and up 6.4% from the previous year.
However, price might not be the only reason that home sales have slumped. NAR reported that June 2019 sales of existing homes dropped 1.7% from the previous month and 2.2% from a year ago. According to Yun, there could be factors beyond pricing that are impacting this reduced sales rate.
"Either a strong pent-up demand will show in the upcoming months, or there is a lack of confidence that is keeping buyers from this major expenditure," said Yun. "It's too soon to know how much of a pullback is related to the reduction in the homeowner tax incentive."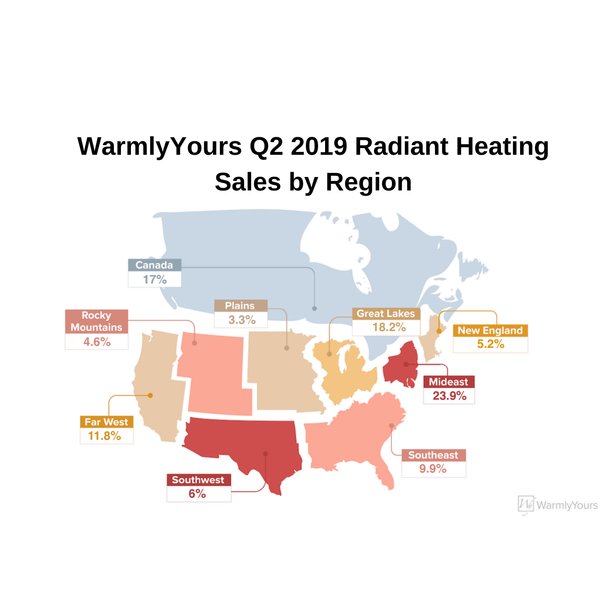 The relative stagnation of the housing market has had a pretty profound impact on projections for the remodeling industry moving forward. According to the most recent Leading Indicator of Remodeling Activity (LIRA), a quarterly assessment of remodeling and repair spending amongst homeowners released by the Joint Center for Housing Studies of Harvard University, gains in remodeling expenditures are going to shrink from 6.3% (currently) to just 0.4% by Q2 2020. Chris Herbert, managing director for the Joint Center, said that this downturn is due in large part to decreasing home sales but that the effect may be lessened if home sale activity increases.
"Declining home sales and homebuilding activity coupled with slower gains in permitting for improvement projects will put the brakes on remodeling growth over the coming year," said Herbert. "However, if falling mortgage interest rates continue to incentivize home sales, refinancing, and ultimately remodeling activity, the slowdown may soften some."
Despite these relatively negative projections about remodeling activity, Julia Billen feels confident that the short term future for WarmlyYours will be positive due to the very nature of radiant heating sales.
"We've faced far worse projections than these before during the Great Recession and we not only survived, we didn't have to lay off a single employee," said Billen. "There's always going to be someone that wants to warm their floor or heat their driveway because people are always going to want comfort and safety for their homes. And we will always be there to provide that for them."
Sources:
·      Relevant WarmlyYours internal documentation
·      https://www.jchs.harvard.edu/press-releases/steep-slowdown-projected-home-improvements
·      https://www.bea.gov/news/2019/gross-domestic-product-2nd-quarter-2019-advance-estimate-and-annual-update
·      http://www.ncsl.org/research/labor-and-employment/national-employment-monthly-update.aspx
·      https://www.nar.realtor/newsroom/existing-home-sales-falter-1-7-in-june
·      https://www.attomdata.com/news/market-trends/q2-2019-u-s-home-sales-report/
·      https://st.hzcdn.com/static/econ/2019USHouzzAndHome.pdf
·      https://www.houzz.com/press/682/Confidence-in-Q3-Home-Renovation-Market-Mixed-Among-Home-Professionals-Houzz-Barometer-Finds
---
Tell us About your Project
Our team of Radiant Experts is ready to help! Just tell us a little about yourself and your project to get started.
---
Did you find this post helpful?
Let us know by giving it some applause.
---
---