Lake Zurich, Ill., May 14, 2020 ⎯ According to a recent industry report, despite many states issuing shelter-in-place orders in March radiant heating sales in the first quarter of 2020 were buoyed by growth in both electric floor heating cables and insulating underlayments.
WarmlyYours, a manufacturer specializing in radiant heating products like electric floor warming systems, released their "2020 Q1 & Annual Industry Report" recently. This report analyzes the sales of radiant heating products within the wider context of the national housing and remodeling markets. One of the primary conclusions drawn in the report was that first quarter sales of WarmlyYours radiant floor heating products were led by growth in floor heating cable and the insulated underlayment product lines. This growth is despite many states issuing "Shelter-in-Place" orders in March.
TempZone Floor Heating Cable was up 7.8% in the first quarter to constitute 27% of all floor heating sales. This is the highest percentage of total floor heating sales that the cable product has constituted since it was launched in 2015. While CeraZorb saw a 33.9% increase in the first quarter to comprise 37% of all floor heating underlayment sales. CeraZorb is a synthetic cork product that is used as an insulating underlayment to prevent "heat sink" (loss of heat to the subfloor) for electric radiant heating systems. According to the report, there was a nearly 50% increase in floor heating projects for basements which helps explain some of CeraZorb's growth.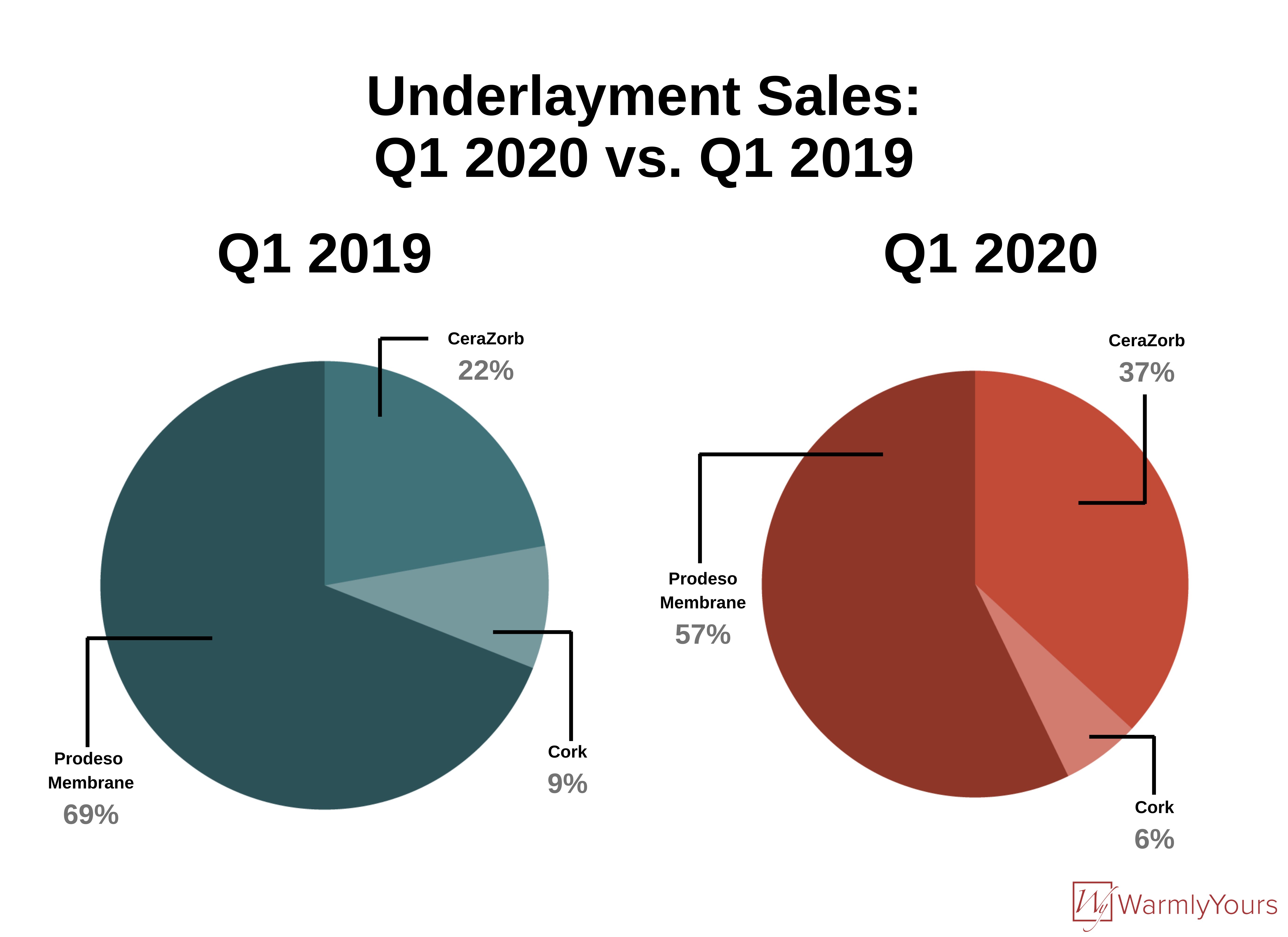 In the report, Julia Billen, owner and president of WarmlyYours, said that so far Q2 2020 sales of floor heating have remained strong despite a majority of the U.S. being under "Shelter-in-Place" orders.
"Of course it's still early, but so far we've seen many key product lines match sales growth from last year, which is very encouraging," said Billen. "But it would be foolish to assume the marketplace isn't going to change significantly. The key is for us to identify the direction of that change to make sure the company is ready and able to continue providing excellent products and even better service for our clientele."
In the report, Billen outlined some key plans for moving forward for WarmlyYours, including the launch of a remote installation supervision service called "SmartSupport."
###
To read the full report, click here.

Hi-res images are available upon request.
About WarmlyYours Radiant Heating:
For over 20 years, WarmlyYours Radiant Heating has offered the industry's most innovative solutions in radiant heating technology, from our flagship floor heating systems and radiant wall panels to snow melting systems, as well as comfort products, including towel warmers, mirror defoggers, shower floor and bench heating, and countertop heaters. With locations in the United States and Canada, WarmlyYours provides unrivaled personalized customer support from start to finish, featuring measuring and design services, 24/7 technical support, and our No Nonsense™ Warranty.
For more information, visit www.WarmlyYours.com.
Media Contact:
Cameron Witbeck
Marketing Communications Manager
WarmlyYours Radiant Heating
590 Telser Rd, Suite B
Lake Zurich, IL 60047
cwitbeck@warmlyyours.com
P: (800) 875-5285 ext. 878
---
Tell us About your Project
Our team of Radiant Experts is ready to help! Just tell us a little about yourself and your project to get started.
---
Did you find this post helpful?
Let us know by giving it some applause.
---
---