Lake Zurich, Ill., May 25, 2021 - According to a recent industry report, radiant heating sales hit growth levels in the first quarter of this year that haven't been seen in over a decade.
WarmlyYours, a manufacturer specializing in electric floor heating, released their "Q1 2021 Industry Report" earlier this week. This quarterly report analyzes the sales of radiant heating products within the wider context of the national housing and remodeling markets. One of the primary conclusions drawn in the report was that floor heating sales were up 31.1% when compared to the prior-year-period. The primary floor heating products driving the Q1 2021 increase were Environ Flex Rolls (up 113.3%), TempZone Easy Mats (up 105%), TempZone Cables (up 31.2%), and TempZone Flex Rolls (up 13.5%).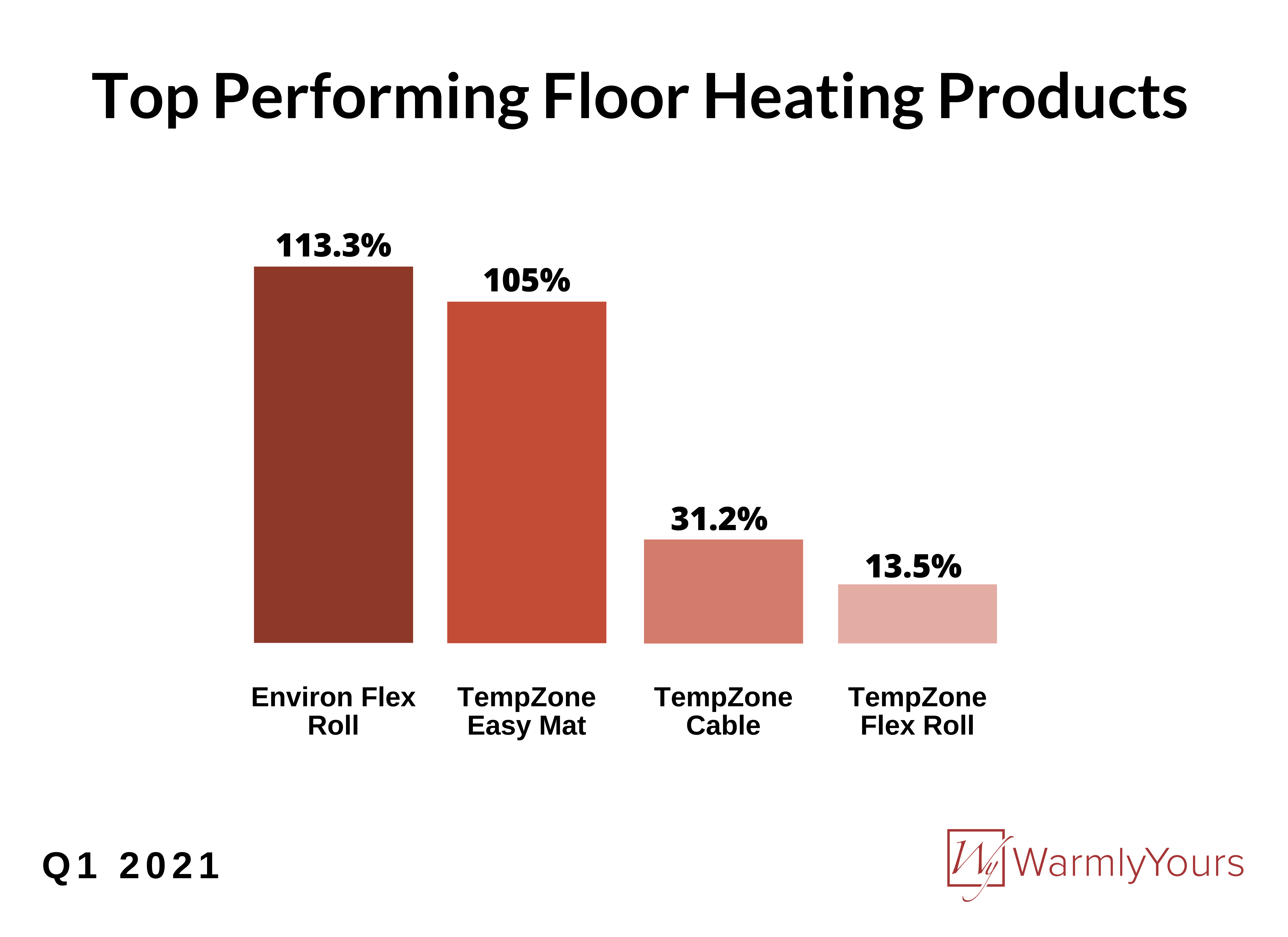 Julia Billen, owner and president of WarmlyYours, said that she believes one of the core factors for floor heating growth so far this year has been increased optimism concerning the worldwide pandemic.
"I think a lot of people are starting to see light at the end of the tunnel as case levels continue to drop. That positive energy has to go somewhere and for a lot of homeowners that has turned into a renewed focus on home improvement projects," said Billen. "And with increased consumer awareness of radiant floor heating, we've seen a lot of those home improvement projects incorporating floor warming systems for the first time!"
Another finding in the report concerns some shifts in the floor coverings being paired with floor heating. While tile (up 11.7%) is likely to always make up the lion's share of floor heating projects (typically making up around 88% of projects) it only made up 80.7% of projects in the first quarter of this year. Vinyl floor coverings, particularly luxury vinyl tile and plank, have been growing in popularity for the last couple of years and these coverings made up 5.5% of all floor heating projects in the first quarter of this year.
Billen said that she thinks that this shift in floor coverings may represent a permanent change.
"Tile will always be king in terms of total sales but other flooring materials like LVT and engineered wood are going to play a crucial role moving forward," said Billen. "Particularly as floor heating is applied to more and more rooms outside of the bathroom and kitchen. Our ultimate goal is to help make electric floor heating a whole-home luxury."


###
Hi-res images are available upon request.
For over 20 years, WarmlyYours Radiant Heating has offered the industry's most innovative solutions in radiant heating technology, from our flagship floor heating systems and radiant wall panels to snow melting systems, as well as comfort products, including towel warmers, mirror defoggers, shower floor and bench heating, and countertop heaters. With locations in the United States and Canada, WarmlyYours provides unrivaled personalized customer support from start to finish, featuring measuring and design services, 24/7 technical support, and our No Nonsense™ Warranty.
For more information, visit www.WarmlyYours.com.
Media Contact:
Cameron Witbeck
Marketing Communications Manager
WarmlyYours Radiant Heating
590 Telser Rd, Suite B
Lake Zurich, IL 60047
cwitbeck@warmlyyours.com
P: (800) 875-5285 ext. 878
---
Tell us About your Project
Our team of Radiant Experts is ready to help! Just tell us a little about yourself and your project to get started.
---
Did you find this post helpful?
Let us know by giving it some applause.
---
---