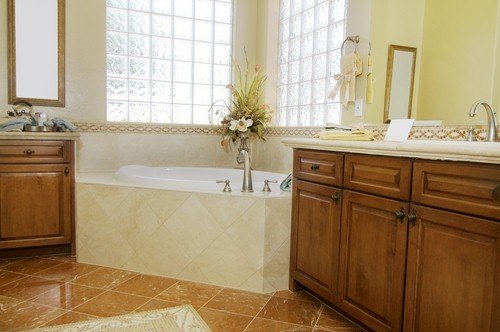 When it comes to your home's bathroom, style tends to take a backseat to function. After all, when you consider everything that gets done in a bathroom - showering to blow drying to brushing your teeth or using the toilet - there's barely any time to enjoy the window dressings.
But maybe that's just because you don't have the right style in place. After all, even the most functional of spaces can be enjoyed if you take the time to stop and smell the hand soap. If you're looking to jazz up your bathroom, there are a variety of directions you can go in - but sometimes eclectic is better. Looking for a few exceptional aesthetics to choose from? Consider any of these four.
But before you dive into bathroom design, consider the one thing all bathrooms can share - radiant floor heating. Because it's compatible with a variety of flooring materials, radiant heat is a great option for heating any bathroom. As the weather turns cooler, don't risk freezing up as you get out of the shower or the shock of an ice-cold floor. Radiant heat systems are an energy-efficient and eco-friendly way to keep your bathroom - or the rest of your house - warm all year.
1. Stained glass and stone
Not your usual bathroom set up, what you sacrifice in natural light, you're sure to get in atmosphere. While you don't want to mimic the actual cobbles of a 16th century church, why not go with granite vanity counters? Stained glass doesn't need to be over the top either - although if you want to craft your own design there are artisans out there who can help you out.
2. Bamboo bath house
This is an especially popular option among the environmentally friendly. Bamboo makes for a great sustainable resource when building homes, and it's just plain gorgeous to boot - not to mention durable. Infuse this bamboo-filled bathroom with a variety of Zen and Eastern-themed influences if that's your style.
3. Mosaic master bath
However you decide to do you mosaics (ceramic, tile, glass) and wherever you decide to put them (behind the vanity, on the shower floor, surrounding your window frames) these artistic accents will bring your bathroom to life.
4. Red brick redux
Think old New England rather than firehouse on this one and you're sure to find a fantastic look. Although you can install it yourself, it's even better if the brick is part of your house's original architecture. Some old homes have hidden brick behind the plaster on their walls, so dig into your houses history a bit before you knock anything down or start new construction.
---
Tell us About your Project
Our team of Radiant Experts is ready to help! Just tell us a little about yourself and your project to get started.
---
Did you find this post helpful?
Let us know by giving it some applause.
---
---