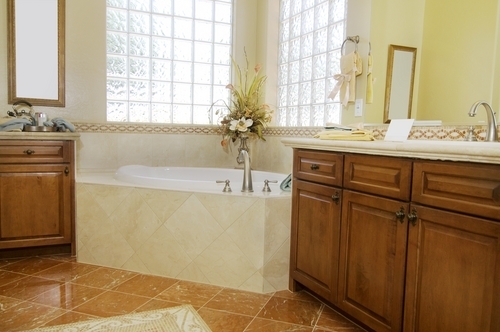 When it comes to making improvements to the home, many people choose to redo their bathrooms. According to a recent survey conducted by the National Association of Home Builders (NAHB), bathroom remodels are the most popular project requested by home owners. In fact, they account for 78 percent of all home renovations. 
The Association surveyed 2,000 builders for the survey, which found that there are several reasons homeowners make changes to their wash rooms. The most common include repairing and replacing old components as well as upgrading amenities. Renovation experts say many people are doing their bathrooms over to create a luxurious space for family members to enjoy.
"The role of bathrooms has transitioned to one of comfort and luxurious moments," said Liz Sprenger, a Minnesota-based designer. "Bathroom remodels are sought for providing a relaxing and rejuvenating experience. Consumers are spending more time using their bathroom time for spa moments of peace and a place to unwind and prepare for life's busier activities."
There are many ways to make a utilitarian bathroom into a more modern and comfortable space for everyone using it.
Radiant heating
Consumers looking for an easy way to make their bathroom more comfortable and spa-like often opt to install infloor heating systems into their rooms. These floors are ideal for bathrooms, as they provide comfort and warmth in any climate, and especially on cold winter mornings. Radiant floor heating is also preferred over traditional heat, as it is more cost-effective and efficient.
These systems work best with tile and stone materials, as they provide great heat conduction. Designers say tiles laid diagonally with a ceramic tile base molding are trendy in modern bathroom decor.
Luxury showers
Many people are deciding to eliminate the bathtub from their space in favor of a large shower. Multi-head showers that allow users to direct the water exactly where they want are popular, as are steam showers, which truly allow users to enjoy a spa-like experience every time they bathe.
Big Bathtubs
Those who decide to keep the bath in the bathroom often choose large soaking tubs to maximize their comfort. Deep soaking tubs and modern jacuzzis are ideal for those who like to unwind and relax with a nice, hot bath. Stone is among the most popular material for these high-end tubs. 
Design Details
When it comes to creating a bathroom that can serve as a retreat within your home, different design elements can make a big difference. For instance, soothing, serene colors such as greens and blues allow users to feel more relaxed. 
Many homeowners opt for custom vanities and cabinetry that add style and organization to their spaces. A well-designed bathroom includes ample storage for daily necessities, resulting in the perfect blend of beauty and function.
When it comes to tile, neutral-toned stone is definitely on-trend. However, some choose different materials like glass tile and concrete counters to keep their rooms unique and stylish.
Designer lighting fixtures and chandeliers are also becoming more common in bathrooms, as consumers strive to create beautiful spaces.
Extras
Additional components, like heated towel racks, help increase comfort in any bathroom. These devices are available in different sizes, styles and finishes and can make any bathroom feel more luxurious.
According to BathroomRenovationPros.com, bathroom televisions are also increasingly popular. Many designers can also find ways to incorporate music systems into the room to make the time spent in the bathroom entertaining.
No matter how much homeowners spend on their renovations, experts say they are likely to add to the value of their homes. According to the NAHB, homeowners can expect to recoup more than 65 percent of the cost of a nearly $16,000 bathroom remodel when they sell their home. Additionally, adding a bathroom to your house can run more than $30,000. However, 55 percent is likely to be recouped when the home is sold.
---