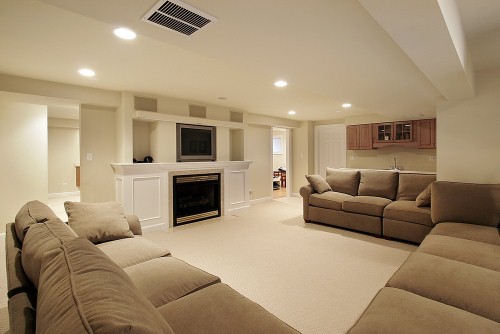 In some homes, the upstairs living room is more of a formal space than a room in which anyone actually lives. Reserved for parties and functions, it's not the part of the house where you kick back on the couch with a bowl of popcorn and a movie. Homes often have secondary living rooms for this purpose, and the growing trend is to put these alternative spaces in finished basements.
There are a number of advantages to having a basement living room. It's spacious, quiet and if you have children, a perfect way to give them their own space. But furnishing it can be a little overwhelming. After all, how do you walk the line between kid's playroom and family living room? And how do you fill all that extra space without making it feel eerily empty or bland? If you're looking to answer a few of these questions and more, consider a tip or two.
1. Invest in a sectional sofa
If you're looking for a great way to fill up space in an efficient and stylish manner, a sectional sofa may be perfect for you. Not only do these provide a massive amount of seating for the whole family, they're as good-looking as they are cozy. Best of all, leaning back on a leather sectional is the ideal way to catch a movie in your own personal home theater.
2. Set up a home theater
What better way to enjoy a Friday night with your family than by putting on a Blu-ray and ordering a pizza? Bring your movie viewing experience to the pinnacle by investing in a top-of-the-line home theater. Start with your television. Whatever size you're most comfortable with, be sure you invest in an LED HDTV. LEDs are light emitting diodes, a hyper energy-efficient form of lighting that also happens to offer excellent refresh rates on televisions, meaning you can watch the fastest moving sports or action movies without missing a single frame. From here, invest in a stylish surround sound system. Going with 5.1 surround sound offers you five speakers and one subwoofer, usually more than enough to change the way you enjoy movies - not to mention the music!
3. Get radiant floor heating
Heating can be tough in the basement, and despite its size, you don't want vents blowing in dusty hot air from your central heating system. Rather than exacerbate allergies in this enclosed environment, consider installing radiant heat in your floors. Radiant heat flooring is a great way to keep your basement living room cozy and comfortable all autumn and winter long. Even better? It's energy efficient.