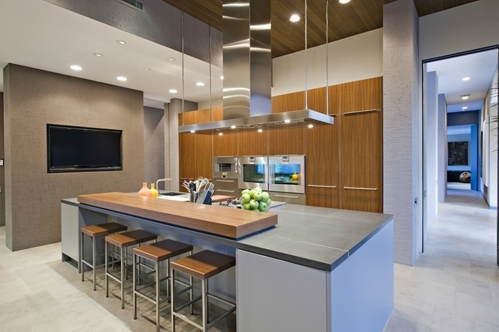 When was the last time you were able to say you loved your kitchen? If you aren't happy with the way it looks, consider remodeling the space. However, careful planning and preparation is necessary to achieve your dream kitchen. With so many choices, from new technology in appliances to the variety of materials available for countertops and floor coverings, there's plenty to think about.
Consider Upgrading
While planning your new kitchen, consider adding features that can dramatically improve the space's comfort and functionality. For instance, radiant heat is something to keep in mind. Assuming you have a solid floor surface in your kitchen, you'll want to be able to walk barefoot without feeling a chill - a radiant heating system can do that for you. Additionally, it can help you keep your entire kitchen warm and toasty.
Shop Smart
If you want to upgrade certain appliances or fixtures in your kitchen, you don't need to break the bank, according to Consumer Reports. Look for bargain priced items and see if you can get discounted appliances from wholesale retailers. Shopping smart can help you get your dream kitchen without breaking your bugdet. In the end, you'll have more money to spend on other amenities throughout the space.
Finding the Right Contractor
Take your time when selecting a contractor for the job. Find someone you're willing to work for several months. Also, getting to know a potential candidate beforehand can ensure that he or she is the right fit.
When it comes to certain features in your kitchen, such as the radiant floor heating, you may want to contact a professional who specializes in this equipment to make sure the job gets done right.
Making Use of What You Have
Before you start knocking down walls and expanding your existing kitchen, take a step back and look at what you have. Using what you already have can help cut down on construction costs, especially if you'd like to and put aside more money to indulge in a few luxury items.
Mind the Details
As you plan the layout for your new kitchen, try to keep factors such as children and foot traffic in mind. Make sure there's enough room for people to walk in the kitchen while it's in use. Measure the appliances you want to ensure that they fit in certain areas of the space for convenience. Ultimately, attention to small details is what can make or break the project.
Whether you plan to renovate your kitchen in the near future or start this coming weekend, taking the time to carefully analyze the project before you begin will reward you with the kitchen of your dreams.