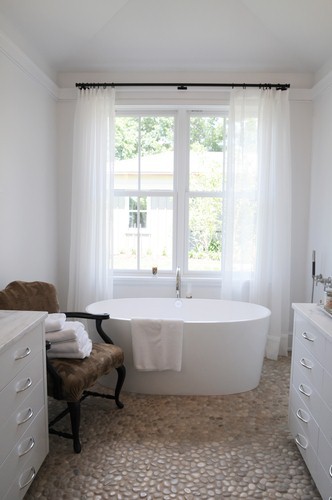 There's a reason why so many great inventors, novelists and scientists claim to have their best ideas in the shower. Most of the day, people rush around from task to task, intent on getting as much done as they can. When they finally sit back to watch a movie or the ballgame, they're so focused on relaxing that they don't even manage to do just that! Sometimes, it seems like the only time our brains can rearrange themselves is when we've got nothing to do but give our minds and intentions a break - and the best place for that is, of course, the shower. Inspiration has a habit of striking when we're not concentrating too hard.
Whether you take your shower in the morning or evening, after a jog or straight out of bed, you know the nearly spa-like feeling of a long, hot shower. So why not indulge yourself and your bathroom in a little remodeling? Try a few of these tips to improve your bathroom and shower.
1. Remember, soap matters. It does more than just keep you clean - it moisturizes, scrubs off dead skin and can be scented for relaxation. Try out various soaps until you find a scent and cleaning combination to your taste. You may not need a tub full of essential oils for olfactory-stimulated relaxation, just the familiar smell of lavender or peppermint castile soap.
2. Find the right shower curtain. You don't want something too bland or too busy, but find a pattern that appeals to you. Something you can take in without having to scrutinize - if you're the artistic or inspirational type, you'll want a design that gets your brain churning but not overtly working.
3. Look into a mirror defogger. Once upon a time, this sort of luxury was only available in top-of-the-line hotels and spas, but easy adhesive application and eco-friendly energy consumption make it a great addition to your new bathroom. Spreading radiant heat across the mirror's surface, mirror defoggers can help eliminate the one downside to piping hot showers - the steam.
4. Discover the perfect showerhead. Showerheads can go a long way toward improving your shower experience. Find the one that has the best options for you, and be sure to get the most out of your water pressure.