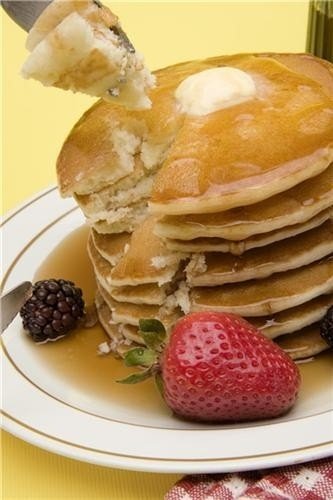 It makes sense that harvest season should also be a great time of year for cooking. If you've been thinking of firing up the range in the kitchen on a Saturday morning so you can tuck into a delicious breakfast with your whole family, consider making a few appliance updates first - for your health and comfort.
1. Electric range. Improving air quality should be one of your number one goals for your home. A great way to do this in the kitchen is by switching over to an electric range from a gas one. Your food will cook the same, but with greater ease of control and no concerns about leaks.
2. Radiant floor heating. While you're at it, why not make the leap toward electric heat with radiant floor heating? These systems fit securely under a variety of flooring materials, including stylish hardwood. Consider bamboo for a sustainable choice. Not only will your air quality benefit - there are none of the dusty vents involved in central heat - but you'll be saving money on the utilities bill and shrinking your carbon footprint. What better way to enjoy a breakfast on a brisk morning than with heated floors that keep you and your family warm through natural convection currents?
3. Energy-efficient dishwasher. While you've got the eco-friendly heating underfoot and the stylish new electric range to make your pancakes on, how about cutting down on excess water usage as well as electricity with a sleek new energy-efficient dishwasher.
Now that you have your great new kitchen appliances installed, you may want to start planning menus for your family breakfasts. Some of these suggestions will be easier for kids to help out with than others, but no matter who does the brunt of the cooking and baking, everyone's sure to love the delicious meals that come out of it!
1. Chocolate chip and pumpkin pancakes. What could make your kids love chocolate chip pancakes even more? How about a hint of pumpkin and cinnamon? Grab a can of pureed pumpkin, or pick up a full one or two at the grocery store and make your own in the food processor. Either way, it'll be a tasty treat. For adults who can do just as well without the chocolate chips, mix up a batch with a bit more nutmeg and cinnamon - perhaps a hint more vanilla as well! It'll be delicious with your breakfast blend of coffee.
2. Eggs with sweet potato hash. For those who enjoy a savory breakfast rather than a sweet one, a few eggs are always a good choice. Why not add a little autumnal twist to the usual dish with a side of sweet potato hash? Mix chorizo or your favorite meat (or vegetarian or vegan option) with chopped and diced sweet potatoes and fry them up in a piping hot skillet. Add caramelized onions, a few diced peppers or even a bit of yam (which can be substituted for the sweet potato, but also complements well). Some folks like to add a touch of maple syrup to theirs as well.
3. Fresh apple cider. Pick up a bushel of freshly harvested apples at your local grocery store or orchard and you're sure to have a number of delicious breakfast dishes you can make, from apple walnut bread to homemade applesauce with a dash of cinnamon. Even a macintosh and a slice of cheddar can make for a satisfying morning snack. But why not indulge in that quintessential autumn drink - apple cider. Flavor however you like - with a little extra sugar or a few crush berries. This is sure to be a standout part of every breakfast.
---
Tell us About your Project
Our team of Radiant Experts is ready to help! Just tell us a little about yourself and your project to get started.
---
Did you find this post helpful?
Let us know by giving it some applause.
---
---