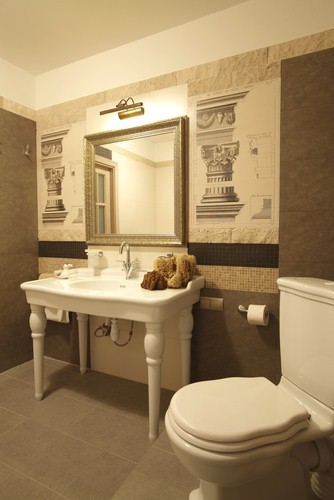 Bathrooms generally aren't the most spacious room in the house. Given the choice between a larger master bedroom and a spa-like master bath, most go for the bedroom. But there are a variety of tricks to making bathrooms look and feel larger that can complement both the décor and function of your space.
If you're looking to touch up your bathroom and give it a sense of openness and spa-like grandeur, consider these tips.
1. Mirror defoggers. Mirrors are an age-old trick for making any room larger, but they aren't as effective if they're constantly fogged over by steam. Mirror defoggers use radiant heat to transmit warmth over a mirror's surface, which keeps it from glazing over with steam while you're in the shower, shaving or washing your face. Energy-efficient and easy to install, defoggers can help your bathroom feel open and large even after a piping hot shower.
2. Pedestal sinks. Not every bathroom requires a full-sized vanity along the wall. For a simple yet classic design, install a pedestal sink in your bathroom. If you're in need of counter space, consider an accompanying marble-topped table.
3. Natural light. Here's another great use for mirrors. Keep natural light spread throughout the room to make a space feel more expansive. Frosted glass windows in a shower can help the illumination flow freely.
4. Cool, light colors. While all bathrooms don't need to be shades of white, it does help make a space feel more open. Choosing light colors will make your bathroom feel fresh and larger than its size, but to keep it from feeling bland you'll want some highlights and trim that pop. Add splashes of bright hues, like pinks, greens and blues.
5. Wise storage. Don't let clutter take over your bathroom space. Stray toothpaste, hair brushes and bathroom accessories can make the room feel cramped. Keep your bathroom clean and orderly to enforce a sense of openness. Use cabinets, wall mounted racks and shelving. If there's an alcove, take advantage of it. Even window ledges can serve a purpose.
Size doesn't have to make a bathroom small. Keep these tips in mind, and think big.