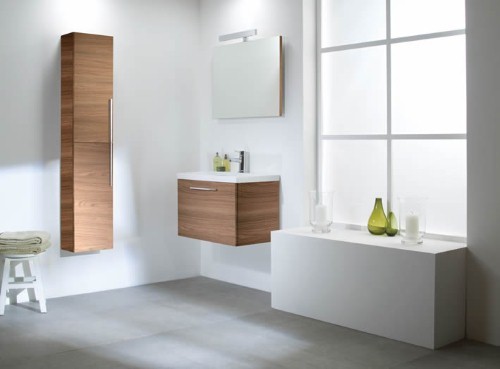 When working with homeowners who have a big budget to spend on remodeling a bathroom, you'll want to make sure that you're familiar with top-of-the-line industry trends in order to give them the design of their dreams. In addition to incorporating up and coming conveniences such as radiant floor heating, you'll want to examine all of the different types of tile, fixtures and wall colors on the market that can truly make a renovated bathroom pop.
One style that many homeowners aspire to create in their own bathrooms is the luxury hotel design. While others might want to transform their master bedrooms into a resort suite, some people desire a bathroom that emulates the luxury that they found while they were away on a lavish tropical vacation.
If you are working with homeowners who want a master bathroom that they can look forward to using on a regular basis, there are a couple of factors you can keep in mind in order to achieve your design goals.
Don't overlook accessories
HGTV reports that it's often the little things, such as plush towels or high-end toiletries, that make vacationers wish they had hotel amenities in their own homes. When shopping for new accessories for your clients' master bathroom, think sleek and luxurious. A copper toilet brush holder or a gold trash bin can go a long way when it comes to creating a fresh, inviting feeling.
If there is a chair or a seating area in the bathroom in front of a vanity, take advantage of the opportunity to add waterproof pillows to the space. Many people associate these accents with bedrooms or living rooms, but they can do wonders for the decor in bathrooms as well.
Bring in luxury
When homeowners have a big budget to spend, they want to make sure that all of their money is put to good use. As an interior designer, this gives you the liberty to bring in items that can create more convenience and comfort in the bathroom.
Radiant floor heating is one item that you might want to install to make the space more comfortable under foot. Radiant heat can also reduce the need to turn up the thermostat, making a home more energy-efficient.
A mirror defogger is another item that designers might want to incorporate into a space. This can keep fog from building up on a mirror during a hot bath or shower.
Finally, don't forget about installing towel warmers in the bathroom to create the ultimate hotel feeling. Many luxury resorts provide warm towels and robes to guests as complementary items. By installing a towel warmer in your clients' master bathroom, they'll be able to enjoy this convenience even when they're not on vacation.
Stay away from cliche tiled floors and walls
When designing a hotel-style master bathroom for your clients, the best thing you can do is stay away from the norm. ApartmentTherapy.com reports that you don't have to have sleek tile floors and walls to create a sense of luxury.
One design tactic you can use is to mix and match textures, colors and styles to create a unique look that makes homeowners feel comfortable and relaxed in the space. Think about using water-resistant wood floors or fixtures that incorporate vibrant shades of color to create more interest in the bathroom.
Furthermore, don't try to hide fixtures or piping that may seemingly stick out like a sore thumb in the space. These parts of the architecture can give a bathroom the character it needs to wow its users.
---