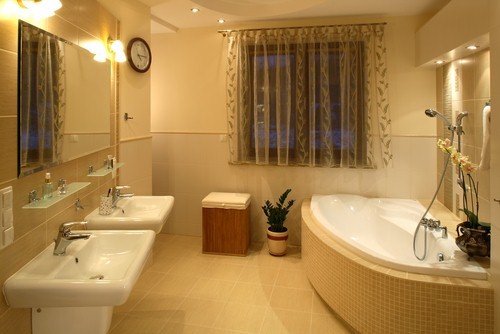 Autumn is starting to gear up for the really cold weather, and before you know it, there'll be a few flurries just in time for Thanksgiving. But as much as you may be looking forward to making a snowman with your kids this winter, all that cold weather isn't exactly a blast when all you want to do is relax. Instead of hanging out in front of the fire - which sure enough has its own charm - why not escape the chill for a while and take a soak in your very own exotic spa?
There's no better time than the present to renovate your bathroom with spa-style amenities. While it's sure to be a novelty now, come February, being able to get out of the cold is going to be essential. Consider these suggestions for making your bathroom more spa-like and exotic than ever before.
Bamboo flooring
Nothing will whisk you away to the tropics quite so quickly as bamboo. As aesthetic and decor, bamboo is a great option. It's stylish, has a definitive exotic presence and goes with a variety of trends and designs. But one of the best features of bamboo is its awesome sustainability. Since bamboo grows so fast, it's one of the most eco-friendly woods you can use when constructing a space. Why not consider bamboo for your bathroom?
Radiant heat
Want to keep going green as you pamper yourself with a stylish new spa bath? Investing in radiant floor heating is a great way to keep your carbon footprint contained and your utilities bill down. Energy-efficient, unobtrusive, a proponent of healthy air quality, there's no reason radiant heating won't help make your bathroom a cozier and greener space! While you're at it, why not invest in a few other energy-efficient products from WarmlyYours? A towel warmer or mirror defogger both make for awesome amenities.
Exotic scents
Now that you're as comfortable as can be and have equipped your space with stylish new flooring, concentrate on letting yourself drift away to another place - far from snowy driveways and holiday stress. Why not invest in some exotic scents to help out? Buy a few candles with smells that'll bring you back to past vacations and adventures in faraway places. Bath oils and incense are also great options!
Ambient music
Looking for one last puzzle piece to complete your escapist spa? Perhaps a little ambient music could be just what your need. Download a few MP3s, invest in a CD or even just stream your favorite Pandora station!